Guyana's men's powerlifting team  yesterday regained the team title they lost to Trinidad last year scoring 54 points to run out winners of the Caribbean Powerlifting Championships which ended yesterday in St Thomas, United States Virgin Islands (USVI).
Trinidad and Tobago had to settle for second place with 51 points while Puerto Rico placed  third with 49 points.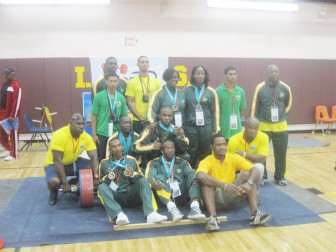 It was a record breaking competition for the local lifters highlighted by Winston Stoby's World record in the Masters division.
Stoby became the first Guyanese and Caribbean lifter to hold a World record in any category to date when the 74kg Men's Masters M2 gold medalist broke the deadlift record setting the new mark at 265.5kg.
For good measure Stoby also equalled the record for the squat 242.5kg and bench pressed 137.5kg.
Three-time Caribbean men's 83kg champion Randolph 'The Accomplisher' Morgan, made it four wins in a row after he recorded a new bench press record of 220kgs (old 215kg), dead lifted 320kg (old 295kg) and totalled 835kg (old 807,5kg).
Morgan was adjudged the best lifter in the men's Open category with 561 points.
Anis Ade-Thomas ,the men's Group `B' 83kg gold medallist, broke his own 2010 records in the squat 252.5kg (old 242.5kg) and deadlift 292.5kg (old 275kg) on his way to lifting the overall junior title.
And Dawn Barker won for the second successive year copping the gold medal in the 84 plus kilogramme class.
Barker broke her own Caribbean records which she set last year in the squat 240kgs (old 227.5kgs) and deadlift 195kgs (old 182.5kg). Her winning total was 550kgs (old 540kg).
In the men's junior category, 59kg gold medalist Vejai Rahim set new Caribbean records in the squat 192.5kg (old 182.0) and deadlift 225kg (old 210kg).
In other results, Gumendra Shewdas placed first in his 53kg sub junior category, Paul Adams placed second in the 74 kg Open Male category to Stoby while Kimberly Mars-Loncke took the silver medal in the women's Open under 84kg class.
On day two, Karel Mars won a silver medal after last year's runner up Adrian Browne turned the tables on him in the 105kg Open category.
In the 120kg Open category, Colin Chesney bombed out for the second consecutive year which raises questions about his ability to compete before an international crowd. The team is scheduled to return to Guyana tonight and a media briefing is expected to be held during the week.
Around the Web