There will be a new president of the Guyana Tennis Association (GTA) when that body stages its annual general meeting later this year.
Incumbent Christopher Ram will be ineligible to run for another term following amendments to the constitution at last year's AGM.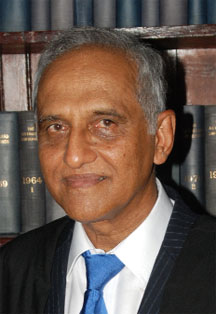 Ram told Stabroek Sport that he himself agreed to the limitations on the presidency as he did not want any one person to have a stronghold over the association.
According to Ram, he willingly decided to give up the position since he did not want to be viewed as the "Vladimir Putin" of the GTA.
According to Ram the new constitutional limitation prevents any one individual from being president of the GTA for more than two terms, whether consecutively or non-consecutively.
Ram has been at the helm of the GTA since he first took over from Wilfred Lee in October 2009. Lee had been President of the Association since it had been revived in 2004.
Since being elected Ram was twice re-elected unopposed to the post in 2010 and 2011.
However, while he can never again be President, Ram said that he has not ruled out serving on the body's executive in another capacity, though he is not "looking for" any positions.
The annual general meeting of the GTA was scheduled to be held last Friday but has been postponed.
A new date has not yet been announced.
Apart from Ram, the current executives are Vice-Presidents Sam Barakat and Nigel Glasgown,
Treasurer Anita Rampersaud Shaw, Secretary Ramesh Seebarran, Assistant Secretary/Treasurer Duane Lopes, Public Relations Officer Sandeep Chand, and committee members Ezra Sue-Ho and Joseph Rayappen.
Around the Web