A breakout performance from Benjamin `Big Ben'  Mekdeci saw him defeating Caribbean Under-15 girls'champion Akeila Wiltshire in the final of the B category of the Guyana Squash Association (GSA) Kool-Aid Junior Easter Tournament yesterday at the Georgetown Club's squash courts.
The win also earned Meckdeci the Most Outstanding Player award..
Meckdeci, the reigning Caribbean Under-13 champion, took apart Wiltshire in straight games (3-0) with an ensemble of controlled power shots.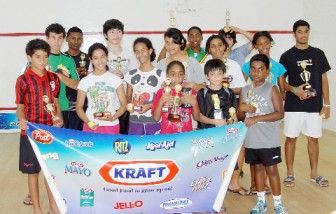 Wiltshire had been undefeated before that match and was on her way to joining her younger sister Larissa and brother Shomari as category winners in this skill level tournament sponsored by Toucan Industries.
But Meckdeci's power and shot selection were smothering from the onset. He pounced on every loose shot and his superior ball retrieval skills were another asset in the match.
Patrick Fraser was third after benefiting from a walkover from Pablio Mundini who failed to show up yesterday.
Larissa Wiltshire, though, defeated Taylor Fernandes in straight games to emerge Category c champion in a tie-break with Andrew Peroune.
Peroune and Wiltshire ended with the same amount of wins  but Wiltshire gained the edge in the tie-breaker since she won her matches more convincingly.
Her eight-year-old brother Shomari also wrapped up a commanding win against Travis Whitehead to win category D with a perfect 3-0 record.
While the other seven, eight and nine-year-olds were battling it out in category F, Shomari was defeating older opponents with ease and was acknowledged as the most improved player of the tournament.
Lydia Alphonso also finished the tournament undefeated in category E.
She defeated Alexandra Phang 3-0 on yesterday's  final day.Justin Gomes was second in that category while Rebecca Low, who was adjudged most improved female player, placed third.
Yesterday's final day of competition saw another dramatic twist of events in the category F standings.
John Phang defeated Anthony Islam to secure first place but there was a three-way tie for second place between Lucas Jonas, Sarah Lewis and Daniel Islam.
After winning five consecutive matches to shoot into first place on Saturday, Lucas Jonas bounced back down to fourth after losing to Daniel Islam. An intense battle between Lewis and Maya Collins had to be discontinued prematurely due to Collins' injury. After benefiting from that win Lewis, placed third when tournament organizers settled the tie based on win/loss statistics on games in each match.
The eagerly-anticipated match between Caribbean Under-15 champion Nyron Joseph and Caribbean Under-17 champion Jason Ray Khalil never materialized. Joseph reportedly injured his hand during the tournament and although he was willing to play, merely gripping the racquet put him in pain. Level Four Elite Coach Carl Ince said he was impressed with the level of talent displayed by the juniors in the tournament this year. He also stated that the improvement in the overall skills of the juniors was very heartening and an encouraging sign prior to the commencement of training for national selection.
Assistant Marketing Manager of Toucan Industries Andrea King congratulated all the participants of the tournament and described their performance as a "job well done" during the closing ceremony.   King also pledged the continued support of Toucan Industries for upcoming tournaments. The Kool-Aid Junior tournament was sponsored by Toucan Industries and organized by the Guyana Squash Association (GSA) in collaboration with its number one corporate sponsor Digicel Guyana.
Tournament results
Category A
Winner: Jason Ray Khalil
First runner up: Nyron Joseph
Second runner up: Steven Xavier
Category B
Winner: Benjamin Mekdeci
First runner up: Akeila Wiltshire
Second runner up: Patrick Fraser
Category C
Winner: Larissa Wiltshire
First runner up: Andrew Peroune
Second runner up: Alec Melville
Category D
Winner: Shomari Wiltshire
First runner up: Matthew Phang
Second runner up: Mahendra Khusial
Category E
Winner: Lydia Alphonso
First runner up: Justin Gomes
Second runner up: Rebecca Low
Category F
Winner:  John Phang
First runner up: Daniel Islam
Second runner up: Sarah Lewis
Around the Web