By Iva Wharton
Women's cricket in Guyana will receive equal attention as male cricket, according to newly- appointed advisor to the President on Sport and Chairman of the Interim Management Committee (IMC) for Cricket, Clive Lloyd.
Lloyd, also known as the `Super Cat' made that disclosure in an exclusive interview with Stabroek Sport on Friday.
According to Lloyd, treating the sexes as equal in the sport was the way to go.
"You can't just do anything haphazard, if you are giving money to men's cricket then you must give to women's cricket. It should not be a situation where they are not treated as equals."
According to the IMC Chairman, consultations were conducted in the three counties – Berbice, Demerara and Essequibo.
"We recognized that women's cricket was not being given the attention that it should, so, at this point, we are addressing it."
He went on:"It was alleged that money was given to the Guyana Cricket Board for women's cricket, but it is quite obvious for some reason nothing was done, so we will have to deal with that."
He said that focus of the IMC is to get more women actively involved in the sport.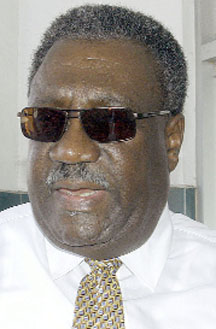 "In the Essequibo area, the women are saying that they are being left behind, that they are being thrown off of grounds when they try to practice."
Asked whether the situation is the same in Berbice and Demerara, Lloyd said that in Berbice the situation is different as they are better organized.
"I must say that they seemed to have things in hand."
Lloyd said that given the work of the IMC he is hoping to have measures in place to work with the three counties to effectively develop women's cricket.
He also said despite the lack of competition Guyana is represented by four women on the West Indies team.
"So it shows that we need to embrace it and get more women involved in a more concerted effort. "We, either, are going to have a section on the Guyana Cricket Board or someone representing women because that is important, because they are doing much better than the men."
Asked whether executive members of the now disbanded GCB were not interested in the development of women's cricket, Lloyd said he does not know if it is that they were not interested…"but when we took the tour women's cricket was at the lower level and we need to improve that, we need to rectify it and hope to do so once we have the constitution and the Cricket Development Plan would be a part of it."
The Cricket Development Plan, according to Lloyd, is completed but the IMC is yet to meet with the various cricket associations to get from them whether they have women teams, how many women teams are there to facilitate trials and competition that will see the best female players emerging.
A number of national female players had voiced their displeasure to this publication on the treatment meted out them. The women said that complaints to some officials fell on deaf ears.
The women not only spoke about the lack of competition and training, but also the fact that they were not equally or even closely remunerated by the GCB whether they competed nationally, regionally or internationally.
Female players received a stipend of US$100 for their participation in regional tournaments while their male counterparts received US$800.
According to them the US$100 was not set in stone and as such on occasions they received half the amount or they were not paid at all.
They were also placed in situations where they were forced to argue with GCB officials for water and meals when competing at the inter-county level.
Around the Web