Pepsi Hikers and Bokra emerged men's and women's champion at Sunday's Bounty one-day hockey tournament held at the National Stadium at Providence.
Hikers edged out arch-rivals Georgetown Cricket Club (GCC) 1-0 in the men's final while Bokra defeated GCC Flora in the women's decisive game.
Hikers rebounded from an earlier defeat at the hands of GCC secure victory from a
The nippy France had made several raids on GCC's goal area but was thwarted by sturdy defence from the Bourda side.
GCC tried in vain for the equaliser with Alan Fernandes, Kevin Spencer and Stuart Gonsalves all failing to find their target.
In the women's final, Bokra, the national under-21 squad defeated the more experienced GCC Flora in an exciting showdown that was determined by a penalty shootout.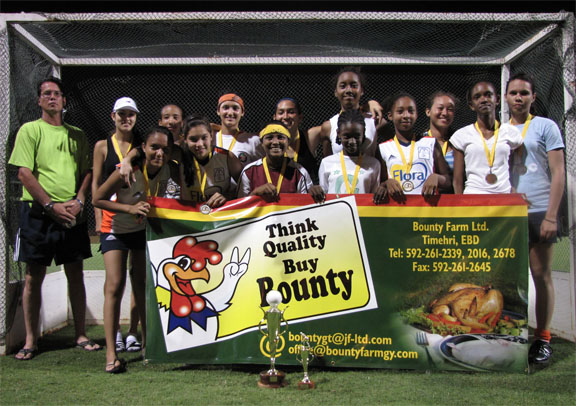 GCC had only themselves to blame after the squandered several scoring opportunities as strikers Kerensa Fernandes and Carol Caine failed to convert.
Trisha Woodroffe at centre midfield for Bokra however was the launching point of their counterattacks which saw the dangerous Gabriella Xavier troubling the GCC defence on a number of solo runs.
With the score still levelled at 0-0 after full time, the teams went into a penalty shootout.
GCC's Captain Sonia Jardine was the only member of her side to score against Bokra goalkeeper and Captain Alysa Xavier.
Scoring for the youthful Bokra were Gabriella Xavier, Trisha Woodroffe and Ashley DeGroot.
Michael Xavier of GCC received the Most Valuable Players trophy for the men's competition while Trisha Woodroffe of Bokra received the accolade for the women
The tournament attracted the country's leading players and clubs including Old Fort in the second major hockey event to the staged at the Stadium.
Around the Web