By Iva Wharton
Seventeen-year-old Samuel Kaitan left today for Bermuda where he will compete in the Carifta Games.
Kaitan, who hails from Katuur Village, South Central Rupununi, said he is ready for the games and intends to win.
"I will be going there to win," he told Stabroek Sport yesterday.
Kaitan, who was accompanied by his coach Leslie Black, said that this is his maiden international outing and he is pleased to have been given the opportunity.
Kaitan, who will compete in the 5000m said he intends to do his best.
The teen who has been in the city close to two weeks said he does not feel threatened as he knows his ability and is confident in the training he did with Brian Rodrigues at the St. Ignatius Ground and with Black.
Sunday last, Kaitan had his final practice runs on home soil when he competed in the Amateur Athletic Association of Guyana (AAG) Developmental Meet at the Mackenzie Sports Club Ground, Linden.
Kaitan, who took 22 seconds off of his trial run, clocked 16.18s in winning the 5000m Linden.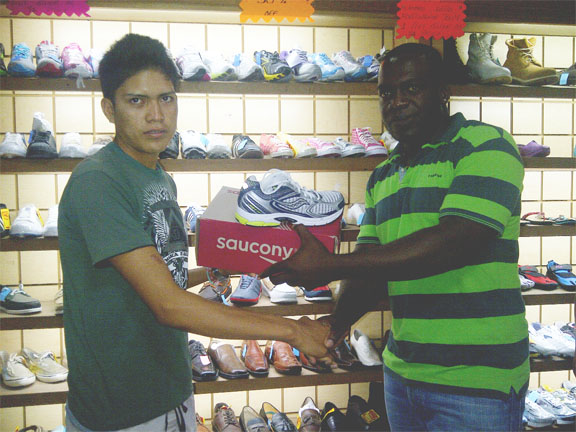 Among the athletes he outran were junior distance champion Nathaniel Giddings.
Black said he is confident that the young man will medal at the games given his performance against some of the better athletes.
Meanwhile, yesterday Gems Diamond Trading and Colours were the latest company to support  the young man. Gems donated US$100 while Colours Boutique presented Kaitan with a pair of training shoes which he said he was grateful for.
Robeson Brotherson, a representative of the boutique said that they were pleased to be making the presentation as they are also happy to be of assistance to Guyanese sportsmen/ women.
Kaikan is also sponsored by the Guyana Olympic Association (GOA). The GOA paid for Kaitan's ticket to Bermuda.
Around the Web