By Iva Wharton
The sport of motor racing is improving in Guyana, says Super Biker Kevin Graham.
The Canadian made this comment on Sunday at the South Dakota Circuit where he competed in the Race of Champions.
"It was a good day. Obviously I wanted to win, but what could I tell you, it was not my day. We won the last one but you know Stephen (Vieira)  rode really well. The best part of it is that the two of us were out there having fun, working together."
The former Champion of the Caribbean Race of Champions Series, said the two have a level of respect for each other so they push each other to do better in each race. He added that he was impressed by Joel Neblett who has improved a lot.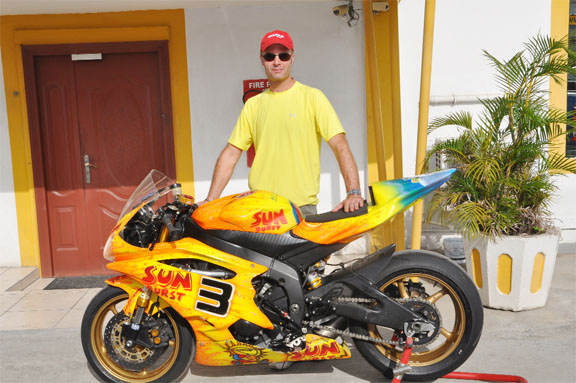 "The whole group is coming along, even the `B' riders, they did a really great job. Motorbike racing has improved in Guyana."
He said that the riders stole the show with their performance in the Super Bike A and B grouping.
"We worked our butts off to put up a good show." Graham, who said that he comes to Guyana to compete for fun, added that he hopes that he can compete in future events as he is getting older.  Asked whether he will be competing in the Caribbean Championships, Graham said he is not sure.
"It would be nice but these guys are doing well and I won that a couple years ago.
But if they break my lap record in Jamaica I will come back then." Graham won one of his four events on Sunday.
Around the Web