CAVE HILL, Barbados, CMC – Dwayne Smith hit a typically attractive half-century and shared a century partnership with Jason Holder that propped up the WICB President's XI batting in the first-class tour match against Australia yesterday.
Smith led the way with 62, Holder supported with 49, and Kieran Powell made 42, as the President's XI, choosing to bat, were dismissed for 201 in their first innings about 45 minutes after tea on the opening day at the Three Ws Oval.
Smith and Holder put on 103 for the seventh wicket to revive the President's XI, after they slumped to 78 for six in the first hour after lunch.
But the President's XI batting was undermined by Ryan Harris with four wickets for 23 runs from 13 overs and left-arm spinner Michael Beer with four for 41 from 8.2 overs.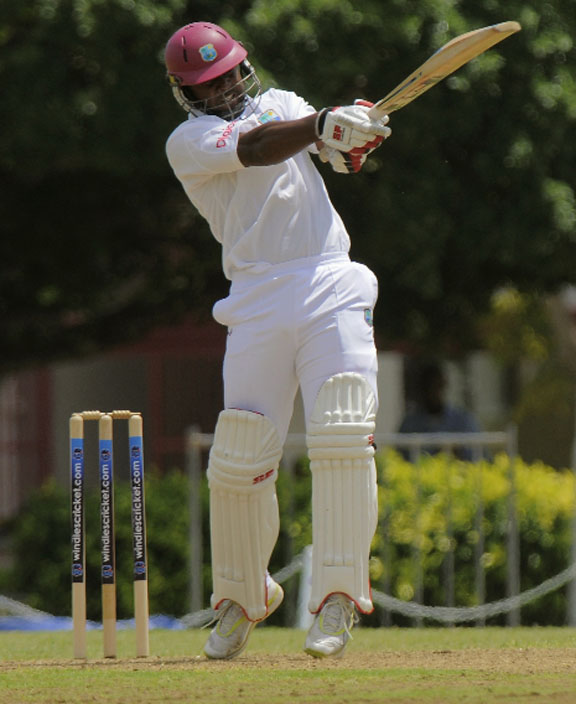 With 19 overs available to them before the close, the President's XI made some headway, as Australia were 81 for two when stumps were drawn with their captain Michael Clarke not out on 11 and Ricky Ponting not out on eight.
Off-spinner Ryan Austin, playing in very familiar conditions, made the breakthrough for the President's XI, when he had Ed Cowan caught at short cover for 12 looking to play into the leg-side, following an opening stand of 42.
The President's XI fast bowlers were wayward and Watson, in particular, cashed in, stroking eight fours in 42 before he played back and across to a delivery from Nelon Pascal and was lbw just before the close.
Earlier, Powell and fellow opener Devon Smith plodded away diligently, giving West Indies a solid, if not spectacular start.
Smith was lbw for seven playing back across to Beer in the final half-hour before the interval, as the President's XI limped to 58 for one at lunch.
The President's XI wobbled after the interval, when Harris grabbed three wickets, triggering a middle-order batting collapse.
Powell was bowled, when he dragged a delivery from the Australia fast-medium bowler into his stumps in the second over after lunch. He collected five fours from 104 balls in 125 minutes.
Nkrumah Bonner and Devon Thomas were lbw for five and a duck respectively, off successive deliveries in Harris' next over, both playing across well-pitched balls.
The President's XI were 61 for four and ran into further trouble, when their captain Carlton Baugh Jr was bowled for  six looking to leave alone a delivery from Peter Siddle and ball ricocheted from his bat. Kyle Corbin, another player in very familiar conditions, was then caught at forward short leg from Nathan Lyon's off-spin for seven.
Holder joined Smith at the crease, and they put the Australian attack into perspective with some hefty blows.
Smith reached his 50 from just 57 balls, driving Lyon to mid-off for a single, and the pair carried the President's XI to tea on 173 for six. After the break, they were just beginning to get into the swing of things again, when Smith was caught at gully driving loosely outside the off-stump. He struck seven fours and one six from 73 balls in 97 minutes.
Holder continued to plunder the bowling and was inching to his 50, when he mistimed a pull and was caught at mid-on off Beer. His innings lasted 114 minutes and he struck seven fours and one six from 76 deliveries. There was little resistance from the rest of the President's XI with Beer grabbing the last two wickets cheaply.
Scoreboard
WICB PRESIDENT'S XI 1st Innings
D.S. Smith lbw b Beer              7
K. Powell b Harris                    42
N. Bonner lbw b Harris               5
K. Corbin c Cowan b Lyon        7
D. Thomas lbw b Harris             0
*+C. Baugh b Siddle                    6
D.R. Smith c Forrest b Harris  62
J. Holder c (sub) Starc b Beer 49
K. McClean not out                      0
D. Johnson c Pattinson b Beer   0
N. Pascal b Beer                          0
Extras (b4, lb8, nb4)                  16
TOTAL (all out, 68.2 overs)  201
Fall of wickets: 1-42, 2-60, 3-61, 4-61, 5-72, 6-78, 7-181, 8-194, 9-194
Bowling: Harris 13-3-23-4; Hilfenhaus 13-6-22-0; Pattinson 10-4-18-0 (nb3); Siddle 12-3-31-1; Lyon 12-2-54-1 (nb1); Beer 8.2-1-41-4
AUSTRALIA 1st Innings
S. Watson lbw b Pascal           42
E. Cowan c Holder b Austin    12
*M. Clarke not out                   11
R. Ponting not out                    8
Extras (lb1, nb6)                        7
TOTAL (2 wkts, 19 overs)     81
P. Forrest, +P. Nevill, P. Siddle, J. Pattinson, R. Harris, B. Hilfenhaus, N. Lyon to bat
Fall of wickets: 1-43, 2-62
Bowling: Pascal 5-0-37-1 (nb6); Johnson 3-1-5-0; Austin 7-2-19-0; McClean 4-1-19-0 (nb1)
Position: Australia trail by 120 with eight first innings wickets standing
Players-a-side: 12 (11 can bat and field)
Toss: WICB President's XI
Umpires: G. Brathwaite, J. Wilson
Match referee: M. Jones
Reserve umpire: J. Blades
Around the Web