The aptly-named Never Lose softball cricket team was among the winners last Sunday when  the Hadi's nationwide  male and female softball cricket tournament organised by the Guyana Floodlight Softball Cricket Association continued at various venues.
Spearheaded by former national middle order batsman and Guyana coach Rabindranauth Seeram, Never Lose defeated Savage Masters by the handsome margin of 71 runs.
Never Lose  batting first racked up 236 all out off 25 overs with Ashraf Ali topscoring with 89 and Seeram supporting with 37.
Savage Masters in reply were dismissed for 165 off 21 overs with Nadir Baksh making the top score of 55. Basdeo Persaud captured 3 for 15 bowling for Never Lose.
Results: Ministry of Education ground:
Floodlights def. Wellman by 88 runs. Floodlights 266-9 off 25 overs. Imtiaz Mohamed 82, Clyde Canterberry 42 not out, Wayne Jones 37.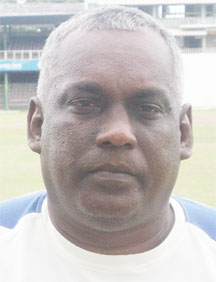 Wellman 178 all out. L. Rooplall 58. Imtiaz Mohamed and Ramchand Ragbeer took three wickets each.
Defenders def. East Bankers by 10 wickets. East Bankers 132 all out. Suresh Ramdin 64. Defenders 133 without loss. Aftab khan 61 not out, O. Chandler 54 not out.
Enterprise def. Wellman by three wickets. Wellman 184 all out off 25 overs. M. Samlall 91, B. Sarran 44.
S. Yadram took 4 for 26.
Enterprise 181-8 off 21.3 overs. J. Lall 38, N. Roopdeo 31 not out. Mike Singh 3 for 26.
Results: Carifesta Sports Complex ground.
Green Warriors def. Underdogs by two runs. Green Warriors 106 off 10 overs. Underdogs 104 for 5 off 10 overs.
Wellwoman def. Fazal Kayume Angels by 33 runs. Wellwoman 114 for 7 off 10 overs. Akaze Thompson 56. Fazal Kayume Angels 81-3 off 10 overs, Latoya Smith 2-6.
4R Lioness def. Rising Stars by 84 runs. 4R Lioness 138-4 off 10 overs. Gangadai Singh 88 not out, Anita Ramdeo 20 not out.  Rising Stars 54 for 8 off 10 overs. Nikita Nagamootoo 3-12, S. Goodluck 2-3, Amita Ramdeo 2-8.
4R Lioness def. Fazal Kayume Angels by 84 runs.
4R Lioness 104-1 off 10 overs. S. Williams 52 not out, Tracy Glassgow 42. Fazal Kayume Angels 25 all out. A. Mahadeo 3-4, S. Goodluck and N. Nagamootoo took two wickets each.
Rising Stars gained a walkover from Ariel Divas while  Buxton Stars def. Green Warriors and Underdogs.
Park Rangers def. Bedi Masters by 11 wickets. Bedi Masters 161 all out. Ishwar Persaud 71. Colin Greaves 5-43, Ricky Persaud 4-17, R. Singh 3-16. Park Rangers 162 without loss, Vinoo Lall 67 not out and R. Persaud 54 not out.
Around the Web