Santos Football Club has  taken a comfortable lead in the Powerade Pee Wee football tournament despite suffering an early defeat to Renaissance in the six-team competition organized by the Georgetown Football Association (GFA) and sponsored by Banks DIH Limited.
Renaissance had beaten the leaders 1-0 when the two teams met early in the competition but Santos advanced to 12 points following victories over the other four teams in matches played at Banks DIH ground at Thirst Park.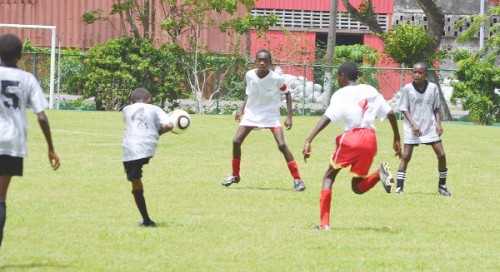 Fruta Conquerors and Renaissance FC are tied on nine points each while GFC and Sunburst Camptown are locked on three points apiece.
Riddim Squad remains at the bottom of the points standing without registering a point. Results to date are: Santos defeated GFC 4-0; Renaissance edged out Santos 1-0; Conquerors got the better of Camptown 2-0; GFC squeezed past Riddim Squad 2-1; Renaissance brushed aside Camptown 4-0; Santos made light work of Riddim Squad 6-0;  Conquerors beat GFC 2-0; Santos stopped Camptown 3-1; Conquerors won against Riddim Squad 3-0; Camptown beat GFC 1-0; Santos took care of Conquerors 1-0 and Renaissance clubbed Riddim Squad 4-0. The tournament continues this weekend with several matches at the same venue.
Around the Web