Six members of the 10 listed on the Guyana team are confirmed to leave these  shores today at 06:00hrs to participate in the 41st edition of the Carifta Games in Bermuda from Saturday to Easter Monday.
At a press conference held yesterday by the Athletics Association of Guyana (AAG) at Olympic House, it was disclosed by  president of the AAG, Colin Boyce that the six members of the Guyana team are sprinters Stephan James, Chavez Ageday, Tevin Garraway, Davin Fraser, long distance male Samuel Kaitan and long distance female Andrea Foster.  They will be travelling  from Guyana to Trinidad before boarding a chartered flight from Trinidad to Bermuda.
Meanwhile, it was confirmed that Shomaine Daniels, Timothy Fullington and Tirana Mitchell will not be making the trip while Letitia Myles's participation is in limbo.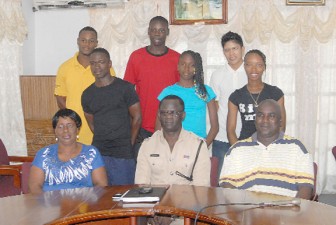 Boyce said that  the estimated cost of the entire trip is $4 million.  Myles has been confirmed to travel from Guyana to Trinidad but because of gaining sponsorship late she was unable to make the chartered flight from Trinidad to Bermuda.
However, according to Boyce the AAG is exploring various options with Caribbean Airlines to get the national junior sprinter from Trinidad to Bermuda.
The team which is one of the largest contingents to participate at the games is definitely slated to win  some medals, according to Boyce.
"Everybody on the team is capable of medaling in their events so we believe we will bring home more than the anticipated amount of medals," Boyce stated.
Julian Edmonds who will be the coach of the team also believes that everyone should do well at the games.
"Well the team is balanced and the sprinters have been running fast so it's just for them to rise to the occasion over there and as you know Guyana has a rich history in the distance events and I believe that our prospects in Andrea (Foster) and Samuel Kaitan will do us proud," Edmonds stated.
The experienced duo of James and Ageday are also expected to perform well on the big stage.
"Well Ageday is experienced and seeing that he ran well on a relay leg in Venezuela last year while getting to train with the top guys I believe he will do well.  When it come to James I have always believed that James can run 46s and once he runs 46s in his 400 metres he will medal," Edmonds opined.
Further due to the late entry of the team the quartet of James, Ageday, Fraser and Garraway will be unable to run the 4×100 metres relay which could have seen Guyana medaling in that event, especially considering the time they ran at the Guyana Defence Force developmental meet.
Meanwhile, the team will have to check in for 04:30 hrs with their team manager who will be Pamela Philips.
Around the Web