By Emmerson Campbell
Like many sportsmen and women the World over record powerlifter Vijai Rahim competes not for the money but for the love of the game.
"I do it for the love of the sport," Rahim told Stabroek Sport.
He is not yet a household name. Indeed, many readers would know of cricket icons Brian Lara, Sachin Tendulkar, Hall of Fame former basketball great Michael Jordan and track and field super star Usain Bolt but not Vijai Rahim. Rahim is a cane harvester by trade but is a record breaking powerlifter when he is not in the fields.
On Tuesday, Stabroek Sport caught up with the 20-year- old Berbician who recently returned from the sixth annual two-day IPF/NAPF Caribbean Powerlifting Championships in St. Thomas, USVI which concluded over the weekend.
During the interview Rahim who won two gold medals and set new Caribbean records in the squat 192.5kg (old 182.0) and deadlift 225kg (old 210kg) in the 59kg men's junior category, spoke about his life and his goals for the future.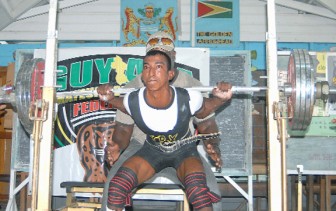 Rahim, the Marcy Dam Rosignol resident, comes from a poor background. His father is also a cane harvester while his mother is a housewife. Both parents dropped out of school early.
Rahim said that he started powerlifting five years ago while competing in a push-ups competition.
Said Rahim: "Well they had a push-ups competition at the gym when I was about 15 (years old) and they asked me if I wanted to enter the competition and I did and I won and after that the man (his current coach Fazim Abdool) asked me if I wanted to do powerlifting and I agreed and that is how it started."
Rahim, who trains at the Hard Core Barbell Gym in Rosignol, noted that his job is very tiresome but still he trains sometimes six times per week after work because of the love of the sport.
"My job is very stressful and sometimes I am very tired after work but I train no matter what, I do it for the love of the sport," said Rahim.
The gifted strongman revealed that due to financial constraints, he is unable to purchase supplements that are required for the sport and basically eats whatever is prepared by his mother.
Rahim opines that more should be done for amateur sportsmen and women and said he hopes someday that athletes in his sport and other disciplines would be assisted in some way as sport in general requires a lot of time, dedication and sacrifice.
The reigning 59kg junior champion said his favourite lift is the deadlift and his immediate goal is to break the squat and deadlift Commonwealth records. His next competition will be the Senior Championships in November.
Around the Web