National female cricketers are elated at the announcement that there would be equality for both sexes in the sport.
Last Friday Advisor to the President on Sport and Chairman of the Interim Management Committee on Cricket, Clive Lloyd made the disclosure in an exclusive interview with Stabroek  Sport.
The female cricketers who requested anonymity said such a step was long overdue.  "We have been playing hard for so many years and were not getting the rewards for it and actually doing better than the men most of the time, so that is very good."
Another player described it as a big step, "it is a great improvement for women's cricket and we do hope that they will fulfill what they promise to do for us because we as women have a lot of responsibilities too. So again I do hope that they fulfill that."
Yet another said that they have fought long and hard, "it is a great improvement and I hope that things can start materializing and bear fruits. We  are going to get some money, but might not get the same amount, but we are going to get some benefits out of cricket. Because when you look at the whole thing, not having that reward when you play cricket discourages you."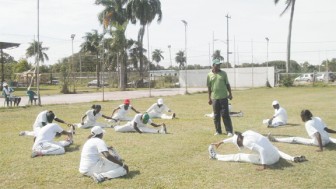 She said that now that bumper ball cricket is being played a number of the females have gravitated to it because the financial rewards are lucrative. That she said is not the same for hardball cricket, "if you are getting something for hardball then you would see more young girls coming forward to play as they are going to be benefiting from it. So I think it is a good idea that the females are going to be benefiting just as the males and I am happy for that."
Two of the more senior players said that given the recent public revelations about the Guyana Cricket Board it is their belief that funds meant for the development of female cricket were diverted.
"I want to believe that they diverted the money into doing their own things, I don't believe they diverted the money into male cricket because they receive a lot of money to cover their expenses, but the females now even if they get the money they have  not done anything because you are not seeing anything being done."
A second player said, "I actually think they do the same to the male team as well, because when they are supposed to be preparing a team they have them in a hostel when they are supposed to be in a hotel. It is the same thing they are doing to the females because we have to say with the men. So what are they doing with the money? Because it is money to prepare us, then we have to beg for fruits, we have to beg for Gatorade what they doing with the money?"
Asked whether they feel vindicated by the recent revelations one of the players said yes. "I feel good that the public know exactly what is going on and that is why I am glad that the IMC has stepped in  because things will get a lot better from here now. Because people did not know what was going on with the females, people would think that we were playing for a lot of money, they weren't aware that we were not getting anything. I can't say that US$150 is anything, the guys go  on tour and come back, buy a car and we can't even afford to buy a bicycle."
She went to say that a number of the women have to leave their husbands and children when  they go on tour to represent Guyana only to return without being properly compensated.
The youngest player in the group at sixteen years old said that while it is a good step, she hopes that the juniors will get the opportunity to play more cricket at their level as their male counterparts.
"So we would like to thank the Georgetown Cricket Association (GCA) for including us in their male tournament."
The GCA has started a female cricket academy which would see the women placed in clubs with the aim of having women teams.
Eventually the best players will be selected to form the team to compete in the inter-county tournament at the various levels.
Lloyd in his interview said that under the Cricket Development Plan of the IMC women will be exposed to more cricket at all levels. He said that after touring the counties and interviewing female players, significant work has to be done to attract more females and keep them interested in the sport.
He said that under the previous executive of the GCB a lot of work was not done in the area of development of female cricket.
Around the Web