The Berbice Cricket Board (BCB) on Friday last launched a massive countywide coaching programme that would be sponsored by the Guyana Oil Company and Castrol.
Speaking at a simple presentation ceremony at the company's head office at  Waterloo Street, Georgetown,  Chairman of the BCB Special Events Committee, Hilbert Foster stated that the Board in 2012 would be placing special emphasis on the development of new talents via an aggressive coaching programme.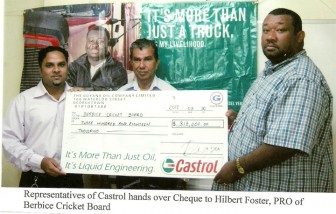 This campaign has already started with the hosting of six coaching clinics, a one-day cricket academy in West Berbice and the publication of three coaching posters.
The campaign would now be expanded with the launching of the Guyoil/Castrol Programme. Under the programme which Guyoil sponsored at the cost of $318,000 the BCB would organize several coaching clinics under the direction of coaches Julian Moore, Michael Hyles Franco, Floyd Benjamin and Winston Smith.
Coaching for young cricketers from the Under-13 to Under-19 levels would be held at the Blairmont and Bath Cricket Grounds, Berbice High School and Cumberland Grounds for the New Amsterdam/Canje area while the Area "H" and Albion Grounds would host cricketers from the Lower Corentyne area.
The youths from the Central Corentyne area would be coached at the Kennard's Memorial and Whim Cricket Grounds, Black Bush Polder at the Mibicuri Ground and Skeldon Community Centre for Upper Corentyne.
Foster who is spearheading the massive coaching outreach programme, the first of its kind to be organized by a county Board with an official sponsor, stated that the sessions would seek to develop new talents in the batting, fast bowling, wicket keeping and spinners departments.
Players would also be taught the history of cricket, social manners, the role of a sports ambassador, fielding placement, public speaking and Berbice cricket records, among other areas.
The BCB hopes at the end of the historic programme that the county would better equip cricketers on and off the field while a permanent register of every youth cricketer in Berbice would be established.
The Rose Hall Town Youth & Sports Club Secretary/CEO expressed gratitude to the Management of Guyoil/Castrol especially Abdool Kadir and Leonard Khan for supporting the efforts of the Board and expressed the hope that the relationship would be long term and successful.
Foster also expressed gratitude to former Guyana Cricket Board Secretary Bishwa Panday for his support to make the sponsorship possible.
Guyoil Company Secretary Abdool Kadir and Castrol Brand Manager Leonard Khan both expressed satisfaction at  being associated with the BCB and the development of new cricketing talents at the grassroots level.
The two officials were of the view that Berbice cricket was on the right footing and that the coaching programme would play a huge role in the restoration of Guyana and West Indies cricket.
Around the Web