AUGUSTA, Georgia,  (Reuters) – Phil Mickelson stormed up the Masters leaderboard yesterday to restore a sense of normality on an extraordinary day at Augusta National as Rory McIlroy relived his worst nightmare and Tiger Woods faded out of contention.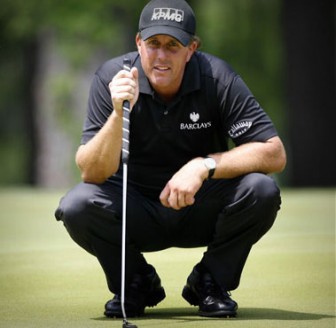 Roared on by huge galleries, Mickelson produced a dazzling display of shot-making and nerveless putting en route to a flawless six-under 66.
The left-hander, already a three-time Masters champion, finished the day at eight-under for the tournament and one shot behind Sweden's Peter Hanson, who birdied the last two holes for a 65 and the outright lead.
South Africa's Louis Oosthuizen, the runaway winner of the 2010 British Open, put himself in the frame for a second major with a 69 to be third at seven under while Bubba Watson was a further shot back after a two-under 70.
Saturday is traditionally known as Moving Day and this was no exception. More than any other tournament, the intense pressure of the Masters can bring out the best and worst in any golfer and yesterday's third round had it all.
While the leaders were thriving in the cooker-pressure atmosphere at Augusta National, McIlroy and Woods both walked off the 18th dejected and frustrated.
McIlroy began the day in a tie for third but for the second consecutive year at Augusta National the Northern Irishman's game collapsed and he tumbled down the leaderboard.
Seven different players had a share of the lead at various stages during the round, but McIlroy's only move was backwards.
After starting the day one shot behind overnight leaders Fred Couples and Jason Dufner, McIlroy shot a five-over-par 77, that included two double-bogeys, to end at one over.
It rekindled memories of last year when he held a four-shot lead at the start of the final day but closed with an 80.
WORST FINISH
A frustrated Tiger Woods failed to make up any ground on the leaders and was in danger of his worst finish at the Masters since he turned professional.
Needing to shoot a low score to get back into contention, the former world number one could only manage an even-par 72 to remain at three over.
He made a bright start, with birdies at the third and fourth holes, as the crowd let out a mighty roar that echoed through the pine trees but failed to make another birdie all day as his emotions started to boil over.
On the 13th tee, he slammed his club into the ground after hooking his drive into the banks of Rae's Creek. On the previous day, he kicked one of his irons after missing a green.
"Certainly I'm frustrated at times and I apologise if I offended anybody by that," Woods said. "But I've hit some bad shots and it's certainly frustrating at times not hitting the ball where you need to hit it."
Defending champion Charl Schwartzel was also left hoping for a last-day miracle after the South African shot a 75 to end the day at six over while world number one Luke Donald was a further shot back after also signing for a 75.
Mickelson started the day at two-under. He parred the first nine holes before making his move on the back nine, which he covered in just 30 shots, featuring four birdies and an eagle.
Hanson bogeyed the opening hole but did not make another mistake all day, reeling off eight birdies to lead a major for the first time.
"It's a new situation to me. I've been up on the leaderboard a few times, but I've never led in anything like this," he said.
"I know it's going to be a tough night … I probably won't be watching a lot of Golf Channel."
Around the Web