By Emmerson Campbell
In a sense Winston Stoby can be considered as having the Midas touch.
When he is not turning raw gold into fine jewellery he is breaking World records and earning gold medals for his powerlifting performances.
Stoby is a goldsmith by trade but has won several gold medals in the sport of powerlifting. The defining moment of his 30-year career came last weekend at the sixth annual Caribbean PowerliftingChampionships in St Thomas, USVI.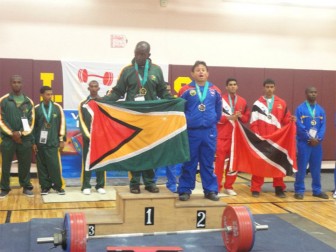 Besides winning two gold medals at the championships, Stoby, the 74kg Men's Masters M2, equalled the record for the squat 242.5kg, bench press 137.5kg, and broke the deadlift record 265.5kg which is a new World record.
Stoby is the first Guyanese and Caribbean lifter to hold a World record in any category to date in the sport of powerlifting.
On Thursday, Stabroek Sport caught up with the 53-year-old at his jewellery establishment in McDoom and during the exclusive interview, the multiple gold medalist spoke of his involvement in powerlifting and his goals for the future.
Stoby said he started his powerlifting career by accident.
Said Stoby:"I was playing in a rugby tournament in `82  and tried a tackle on a player but I missed him, connected to the ground and pushed my shoulder out of its place and it was during the rehabbing of the shoulder in the gym at the Kingsrow Barbell Club that it all started, that is how I picked up powerlifting."
Stoby disclosed that ever since he started competing, he has won gold medals and best lifter awards.
"Since I took up powerlifting as a sport I've always been a winner, winning gold and best lifter awards. "The only guys who beat me locally were Horace Steele and Mervin 'Spongy' Moses. My first international was  in `93 in Washington, DC, then `96 in Canada the Pan Am games, all gold medals and best lifter awards," said Stoby
The new World-record holder however, said he would like to achieve more but bemoaned the fact that he has no sponsor and cannot afford supplements.
Stoby feels strongly that more should be done for powerlifters.
"I train four days a week with no specific diet. If I was to start taking supplements it would run me dry, I don't have a sponsor and that is one of the things I am looking for. I need new gear and supplements, the gear change, the gear that I went to St Thomas with I borrowed it, but once I get my own suit and supplements I'm in real order."
Stoby also stated that he would like to see timely sponsorship for teams of powerlifters on overseas duty.
"It would be less stress on the athletes if we get funding of food and accommodation before we leave than to be studying about those things. I would like to see the sport of powerlifting receive more sponsorship, especially when we are on overseas duties, you know so we would not have to be thinking about nothing else besides lifting," stressed Stoby.
The father of one also gave advice to anyone who is in the sport of powerlifting or who would like to take up powerlifting: "You have to be mentally and physically strong that's the first thing and then you have to be dedicated and be very strict with your training. If you have to go to gym four or five days a week be there and get the job done, no excuses."
Stoby's next assignment will be in Texas, USA, where he and 'Big' John Edwards will compete in the World Masters Championships.
Around the Web