Canada-based defender Julien Edwards has expressed his delight at finally getting a chance to represent the Golden Jaguars during the team's most recent set of international friendly matches in French Guiana last month.
The 24-year old defender first gained a call-up
for the national team last year. Edwards was one of the two Canadian imports (along with right-back Taylor Benjamin of Guyanese heritage) who joined up with the Golden Jaguars outfit during the historic and successful 2014 World Cup qualifiers, second round, contested from September 2 – November 15 last year.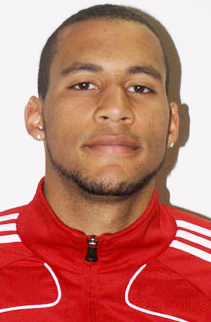 The highlight of that campaign was Guyana's 2-1 victory over the Soca Warriors at Providence on November 11 last year.
His compatriot Benjamin, who is a right-back, got his chance in Guyana's final game in Port-of-Spain on November 15, along with substitute appearance in other matches since to stake his claim behind the Jaguars usual right-back, Jake Newton.
Edwards did not get a chance as coach Shabbaz continued to rely recently on the central defensive pair of veteran Charles "Lilly" Pollard, English- based Leon Cort, John Paul "JP" Rodrigues and Colin Nelson.
Stabroek Sport caught up with the 23-year-old defender who plays for Capital City FC in the Canadian Soccer League (the third division in North American Soccer pyramid behind the MLS and NASL) and he articulated the aforementioned satisfaction of donning the national colours.
"I had been waiting a long time on the sidelines for this opportunity. When it finally came, it was an amazing feeling and experience and definitely worth all the wait. To be able to represent your country at the national stage is always an honour and privilege", stated Edwards.
When asked how frustrating it became for him especially when his colleague Taylor Benjamin was playing, he continued saying: "It is always frustrating not to be able to play and enjoy with the players the historic moment that Guyana's football overcame the past year."
Guyanese football fans got a chance to look at Edwards during the 2011/12 Kashif and Shanghai tournament.
Edwards played for Pele FC which lost in the final to Trinidad- side Caledonia AIA.
Pele coach Gordon Braithwaite has gone on record praising his performances.
In recounting that tournament, Edwards explained it was valuable experience and exposure to the style of Caribbean football for him.
"The Kashif and Shanghai tournament was my real first test to prove to Guyana that I am a good player. The Caribbean style of play is much different than North American and that tournament helped me prepare myself for the high pressure football mentality, which made my debut more comfortable and less nerve racking," he explained.
Golden Jaguars coach and assistant coach Jamaal Shabazz and Wayne `Wiggy' Dover also weighed in on Edwards's perforamances.
Shabazz thanked Odinga Lumumba for aiding in Edwards getting his passport situation sorted out. Initially, unlike most other foreign-based players who qualified through Guyanese parentage, Edwards grandparents were Guyanese, thus he faced stumbling with local immigration in getting the relevant paper work completed.
Dover on the other hand spoke of Guyana's central defensive options which he said have great depths due to Edwards being available for selection now.
"Now that he is certified to play for Guyana, it gives us great depth in that area and competition for places looking ahead to the qualifiers. Although the likes of Pollard, Rodrigues, Cort and Nelson are more seasoned that him, he brings quality and youth to the table having being brought up in a foreign system," explained Dover.
Around the Web