AUGUSTA, Georgia,  (Reuters) – Part Seve Ballesteros and part John Daly, newly crowned Masters champion Bubba Watson is a gifted shot-maker and genuine crowd pleaser who plays with extraordinary passion.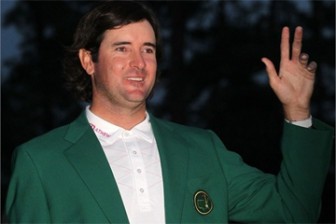 Like the late Spanish matador Ballesteros, Watson likes nothing more than to take on shots that most other players could never envisage. Sometimes they do not come off; often they do in breath-taking fashion.
And like the big-hitting Daly, the prodigious driving Watson is a firm fan favourite who wears his heart on his sleeve with his exciting brand of golf. He has the common touch and is not afraid to engage with the galleries.
Slim but loose-limbed, Watson has long been regarded by his peers as an extraordinary natural talent.
Following his emotional playoff victory over Louis Oosthuizen at the Masters on Sunday, he is now likely to make a much wider impact on the game because of his attacking approach and astonishing creativity.
"I just play golf. I attack. I always attack," Watson told reporters after edging out South African Oosthuizen at the second extra hole where he conjured a miraculous hook shot from pine straw with a gap wedge from 155 yards.
"I don't like to go to the centre of the greens. I want to hit the incredible shot. Who doesn't? That's why we play the game of golf, to pull off the amazing shot."
Watson's shot with from the pine trees on Sunday certainly amazed as it curved 40 yards from left to right before the ball settled on the green 10 feet from the pin. That set up a two-putt par for the American, and was good enough to beat Oosthuizen's bogey for the title.
While most of the top players rely heavily on coaches, Watson is self-taught and learned to play the game as a youngster by hitting wiffle balls around his house, swiftly developing the ability to cut and hook the ball at will.
Feeling comfortable
"I definitely can't hit it dead straight. I like to move it every shot just because I feel more comfortable doing that," Watson told Reuters.
"Hitting big hooks and big cuts with irons, that's something I can do naturally. And I hit it in the trees a lot, so I know how to get out of trees pretty good," he added with a smile.
Watson, who is best known for his power hitting with a distinctive pink-shafted driver and regularly blasts the ball over 310 yards, has stunned fellow players with remarkable shots.
Former world number Tiger Woods vividly remembers watching him cut a one-iron over trees and on to the green from around 320 yards at the Dunlop Phoenix tournament in Japan.
"We see him two groups ahead of us and we have a big logjam and he pulled out iron," 14-times major winner Woods, himself a prodigious hitter, recalled. "We heard he's long, but come on.
"All of a sudden you hear this huge roar. He pumped it on the green. I don't have that shot. If I hit a good three-wood, I'll probably fly it in the front bunker or bounce it in the front bunker. Yeah, he's long."
Having now won his first major title, Watson will certainly be monitored much more closely by fans who were previously unaware of his enormous talents.
Asked how much higher his golfing horizons now stretched, Watson replied with a grin: "Major champion, think I'm done, right? I mean, can't do any better than this.
"That's the best part about history. We don't know what's going to happen. We don't know the future. Hopefully I keep crying. Hopefully I keep having the passion to play golf and keep doing what I'm doing."
Around the Web