The Golden Jaguars team chances of defeating Costa Rica in their upcoming third round World Cup qualifiers have been boosted by the fact that their opponents could be without captain and striker Bryan Ruiz.
While playing in the English Premier League on Saturday, the Costa Rican international was carried off in the 73rd minute during a 3-0 win at Bolton Wanderers.
The injury effectively rules him out of the rest of the season with a broken foot.
Guyana are set to play the Central American side at the Providence National Stadium on June 12 in their second match of World Cup qualifiers  after tackling CONCACAF powerhouses Mexico in a historic opening match on June 8 at the Estadio Atzeca – the venue  of the 1970 and  1986 World Cup final.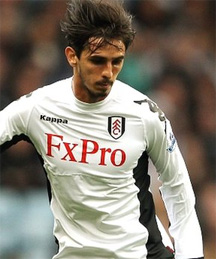 According to the British media, Fulham coach Martin Jol has suggested Ruiz will recover sometime in June or July which, as aforementioned, seriously jeopardizes the chances of the 26-year, who has played 46 internationals for his country and has scored nine goals, from making an appearance in Guyana.
Meanwhile sources close the Golden Jaguars told this publication that the national team will send technical officials to Costa Rica's friendly international game against Honduras today in San Jose, Costa Rica.
Recently when the Golden Jaguars hosted Guatemala at Providence on February 29th and during the four-game Caribbean Tour during the same month to Trinidad and Tobago, Grenada and St. Vincent, Costa Rica and Mexico observers and media were spotted at those games.
The developments highlight the magnitude of the upcoming World Cup qualifiers for all the respective teams.
Around the Web