Orin Joseph was elected president of the Guyana National Dominoes Association when that body held its annual general meeting and election of office bearers last Saturday, at Joseph's residence, Gaulding Place, South Ruimveldt Park.
Michael `Jaggy' Persaud is the first vice president with Derek Collymore the Secretary.
Other members elected to serve on the new executive are Ronald Beharry- Treasurer, Sonia Goodluck- Assistant Secretary Treasurer and Basil Bradshaw-Public Relations Officer.
Mark, Wiltshire is the Senior Organising Secretary and he will be assisted by Yonette Christmas and William Sargeant, who will both serve as Assistant Organising Secretaries.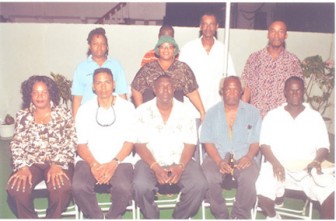 The committee members are Kevin Boston, Faye Joseph, Rudy Collins and Irwin Trotman.
Joseph defeated Jermaine Jackson in the battle for the presidency while the popular Persaud defeated close friend Neville Cadogan in a straight fight.
Persaud yesterday told Stabroek Sports that the new executive will shortly release its programme for the remainder of the year.
Meanwhile Wiltshire has arranged an 18 team 20/20 competition on Saturday at Graham Street, Plaisance. Entrance fee is $10,000 per team and the first prize is $100,000. The second and third placed teams will receive $50,000 and $30,000 respectively.
According to a release from Wiltshire, the prize monies are subject to changes.
There will also be a feature match will pit selections from Antigua, East Coast and Georgetown.
Around the Web