Golf competition returned to the Lusignan Golf Club over the weekend as 29 players battled for the coveted Woodlands Hospital Medal Play tournament.
Like a skilled surgeon, Patrick Prashad dissected the back nine of the Club to stitch up victory in inaugural tournament sponsored by the Georgetown-based private hospital.
Prashad made a mends on the back nine after a disastrous front nine of 42 shot a stunning 33 on the back nine including an eagle and two birdies.
It was enough to card the day's best gross 75 and best net 68.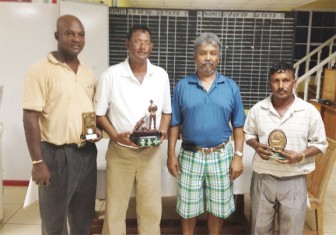 Club President Brian Hackett shot 95 for a net 68 and second place while third place was taken by the long driving Mike Mangal with a 78, net 69.
Hilbert Shields, a former President who secured the sponsorship for the Club through his friend Billy Fung-a-Fatt said Dr. Fung-A-Fat was interested in the game and pledged to sponsor an annual tournament.
Hackett welcomed the new sponsors on board and said the LGC looked forward to working closely with Woodlands Hospital.
He also thanked Shields for helping to arrange the event.
Around the Web