By Emmerson Campbell
"We are of the belief that boxing is one of the sporting disciplines in which we can win many medals, we have many talented boxers in this country and we are very confident that they will bring glory to this country – that is why we want to invest more resources in boxing."
This was the viewpoint expressed by Minister of Sport Dr. Frank Anthony at the Cliff Anderson Sports Hall during a simple handing over ceremony of boxing gears to the Guyana Amateur Boxing Association (GABA).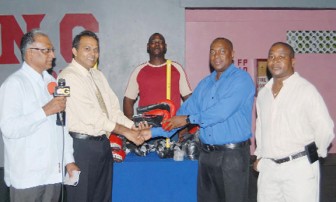 Anthony handed over a quantity of gloves, cup protectors, mouth guards, head guards and sledgehammers to the association and pointed out that yesterday's presentation was just an initial contribution.
Anthony said: "What you are seeing here today is just an initial contribution where they (GABA) will be getting some gloves and other equipment necessary for the training programme, but it is not going to stop here because once we get our budget through our intention is to buy other equipment like weight training equipment for the boxers, things that are essential in their training so we can continue to develop this boxing programme."
He added: "We at the ministry are very pleased to support boxing, as you know over the last couple of months we have been doing a lot of things in relation to boxing. We have assisted the GABA with getting their own ring, and now we have taken a further step which I feel will transform the way we do boxing in Guyana."
Anthony highlighted that the equipment, specifically the sledgehammers, were brought in to be used as tools by Francisco Hernandez Roldan, the Cuban boxing coach who is in Guyana on a two-year coaching programme.  "We have brought in a Cuban coach who will be here for two years to work with our boxers but if we have a coach alone without the tools for the boxers and the coaches to work with, then we will be defeating the purpose. We believe that given the right type of training and equipment, we feel that our boxers can do us proud," said Anthony.
The minister also mentioned that he expects the equipment to be put to maximum use and he is also looking forward to celebrating the glory of our boxers when they give praiseworthy performances for Guyana.
In brief remarks GABA's President Steve Ninvalle thanked the minister for receiving the equipment and assured Anthony that they will be put to maximum use. Ninvalle also promised Anthony that there will be several meetings in the future to celebrate the achievements of amateur boxers, regionally and further afield.
Around the Web