Running Brave Athletic Club athlete Andrea Foster returned to home soil in the wee hours of yesterday morning as the only athlete on Guyana's six member CARIFTA Games team with a medal to show for her hard work despite enduring an unfriendly climate in Bermuda.
The 15-year-old ran her way to a bronze medal with a time of 4:57.28s at the 41st edition of the games at the Bermuda National Sports Centre.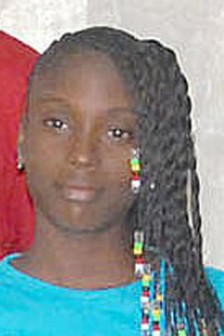 Speaking with Stabroek News Foster said she felt shoe could have done better if the conditions were more favourable.
"Well, actually, it was a good run for me but I think I could have done much better…the weather was very cold at times your eyes would be running water.
"You could have had on three, four jackets and still felt cold so because of that, I think I did excellent despite the conditions," Foster said.
Foster also participated in the 3000 metres Women's Open event but failed to medal.
However, the young rising talent recorded a Personal Record (PR) in the event which now stands at 10:48.01s which earned her fourth  place in the event. This was Foster's first international meet and her first venture on a synthetic track.
In the 3000 metres, Foster  matched strides with girls at least two years older as the event allowed athletes up to age of 20 to participate.
"It was challenging but the better man won. It was also my first experience on a rubber track and it felt weird," Foster revealed of her first time experience on a synthetic track.
While the Guyana team arrived in Bermuda one day before they had to compete, Foster said jet lag was not a factor in her performances.
"I felt good before my races because I was well rested, my events were in the afternoons so I just went to the stadium for the afternoon sessions, so I had enough rest," Foster declared. Relating to her thoughts during the bronze medal run, Foster indicated that she just ran her race with no specific plan in mind.
"I didn't think about anything during the race, I just went out and ran," Foster told Stabroek Sport.
Meanwhile Foster's mother who happens to be local sprint queen, Alisha Fortune, was overwhelmed with her daughter's performance at the games.
"I'm very overwhelmed at the moment, she has a lot more potential and knowing that I qualified for CARIFTA many times before and never got to attend because of finances makes it more overwhelming for me.
"I must also thank her coach Julian Edmonds, AINLIM, Scotia Bank and Mr. Burch-Smith for their contributions towards her success. Without them it would not have been possible because it was basically a last-minute push to get her the sponsorship," Fortune told Stabroek Sport.
Fortune also made a bold pronouncement during the interview with Stabroek Sport.
"I can't stop thanking her coach Julian for the work he has done with her and with her potential at the next Olympics (2016) you may see her there once she continues to improve," Fortune declared.
While Foster's bronze medal adds to the rich history Guyana has had at the CARIFTA Games in the distance events the question remains; when will Guyana produce a CARIFTA Games sprint medalist?
Around the Web