Coach of the six-member CARIFTA Games team Julian Edmonds assessed the team's efforts at the 41st edition of the event in Bermuda as creditable, although he acknowledged some below par performances.
Speaking  at a press conference hosted yesterday by the Athletics Association of Guyana at Olympic House in Kingston, Edmonds said: "In light of all circumstances I think the team performed creditably well, though we had some below par performances from some of the athletes."
Edmonds also congratulated the athletes on their efforts while explaining the conditions under which they  had to perform in Bermuda.
"First of all I must congratulate the young people for the effort they displayed over in Bermuda. The temperature was far colder from what we're accustomed to in Guyana and what we expected based on research that was done on the country. It was below 60 degrees for the first two days and it was very windy," he related to media representatives at the press conference.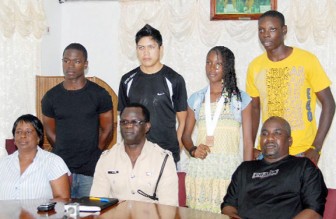 Edmonds also highlighted how some athletes felt throughout the harsh weather patterns in Bermuda.
"I know for a fact the sprinters complained bitterly about the conditions. We tried warming about an hour and a half before the events and then the distance from the warm-up track to the final call room which would have been on the track itself…all the time in that type of breeze which these athletes would not have been accustomed to I think would have played a part in some of the below par performers.
"I remember talking to Stephan before his run and his jaws and fingers were trembling… (Chavez) Ageday for example, he got caught in the blocks and blamed a lot of it on not being able to display the kind of warm-up that he's accustomed to so I guess adjusting played a major factor."
Tevin Garraway who might have been the next best performer after CARIFTA 1500 metres bronze medalist  Andrea Foster stated that the event has definitely opened his eyes on how hard he needs to train.
"Performing out there has now made me realize that to do well you must always stay focused  and that it's a lot of hard work that you have to put in if you want to do well outside of Guyana," Garraway said.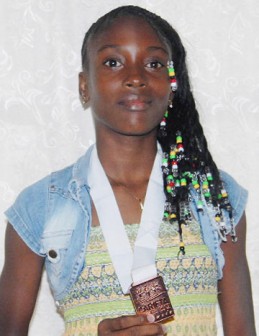 Stephan James who can be deemed as one of the underperformers on the team also expressed his  thoughts on his run in Bermuda.
"I was going out there with high hopes but the weather was really challenging for me, going out there was also an eye opener as well, that you should expect anything and I know I must train harder to lower my personal best times by a wider margin at my next overseas meet," James said.
Manager of the team Pamela Philips noted also that  the team performed well while thanking the Guyanese in Bermuda for their support, especially for the jackets they loaned the contingent.
Meanwhile president of the Athletics Association of Guyana (AAG) Colin Boyce publicly congratulated bronze medalist Andrea Foster. He also reinforced his support for the  athletes and expressed hopes that much progress will be made in the sport from here.
"I know that Foster's medal has added to our rich history of medals at the distance event but I don't believe we should just focus on this aspect alone. As president of the AAG I will remain fair to all athletes and give them that well deserved chance they toil for every day, regardless of the distance they compete over.
"We will also put things in place from now to start looking at future teams as we hope to send bigger teams each year," Boyce concluded.
Around the Web