President of the Essequibo Cricket Board (ECB) Sheik Ahmad has stated unequivocally that the Tony Elite Styles Floodlight two-day Twenty20 tournament scheduled to bowl off today will go ahead despite suggestions that the tournament has not been authorized.
A letter sent to the media yesterday by Cricket Operations Officer of the now disbanded Guyana Cricket Board (GCB) Robin Singh had this to say: "Please be advised that this tournament has not been organized within the framework for approved cricket in accordance with the regulations on approved and disapproved cricket and domestic cricket events of the ICC which came into effect on June 1st, 2009.
Applications for approval of a cricket match or event – outside of what is detailed in the list of approved and pre-approved cricket – must be made in writing to the WICB at least 30 days prior to the start of the event.
The list of approved and pre-approved cricket and a document outlining the responsibility and approval for cricket in the West Indies are available and for viewing and download on the WICB website.
I strongly urge you to seek the approval of the Guyana Cricket Board for this event and ask us to facilitate your request with the WICB, failure to obtain approval of this event will entail grave consequences for participating boards, players and officials."
In the meantime, Stabroek Sport contacted ECB President Sheik Ahmad for a response to this latest twist in the cricket saga and he said in clear terms that his board is not seeking approval from any GCB to run the Twenty20 tournament.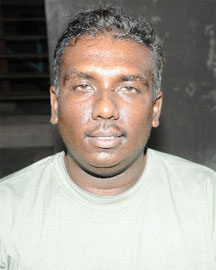 "There is no Guyana Cricket Board at the moment as everyone is aware, so I don't know how we at the ECB have to seek permission from them to host this tournament," said Ahmad.
He continued: "The Interim Management Committee (IMC) is in charge of cricket in Guyana until we get a new board elected in. Currently in Demerara & Berbice they have various competitions going on, run by the various county associations, so that suggestion that we have to seek permission from a non-existent GCB is ludicrous to me."
On March 30 at the most recent IMC press conference, the ECB pledged its support to the IMC. They made it clear that since it was the largest shareholder in the Demerara, Essequibo, Berbice (DEB) Essentials Organization Incorporated, that was created by the former GCB officials, they would assist the IMC and government in retrieving the assets from this controversially created private company.
When further asked if the ECB had ever written to the GCB seeking authorization to run this tournament, Ahmad responded in the affirmative, but with a side statement.
"Yes we had written to them in January, but obviously as the whole of Guyana knows and as I said before, there is no GCB anymore. So basically with the IMC in charge, last week Thursday we wrote a letter to IMC head Clive Lloyd informing him about the tournament," Ahmad explained.
"We are not acknowledging anyone who is purporting to be the GCB.  I want to make that clear. The ECB is at  least a financially strong cricket board and all Mr. Toney is trying to do is to assist to give back to the county in a meaningful way and most certainly it would be a tremendous boost to the cricket here."
In concluding he said: "We were hoping also to get a few national players who recently returned from the four-day competition to play in this competition as well, but unfortunately they have been threatened, stating they could be banned from the WICB because this is not approved cricket. But regardless if they participate or not, the tournament will go on."
The Toney Elite Styles Floodlight Twenty20 tournament will see four knockout matches being played today among the eight  teams, before the two semi-finals and finals tomorrow. There will also  be an exhibition over 10 overs fixture.
The winning team will walk away with a first prize of $250,000.
Fixtures are as follows:
Friday April 13:
North Essequibo vs East Bank Essequibo
Wakenaam vs Central Essequibo
Leguan vs Pomeroon
Bartica vs South Essequibo
Saturday April 14:
1st semi-final: Winner Match 1 vs Winner Match 3
2nd semi-final: Winner Match 2  vs  Winner Match 4
Exhibition 10/10 match: Bacchus Over 40 vs Pomeroon Over 40
Final: Winner semi-final 1 vs Winner semi-final 2
48-hour deadline
Meanwhile, with regards to the 48-hour deadline which is up today, that was given to Attorney General Anil Nandlall and the Minister of Culture, Youth and Sport, Dr. Frank Anthony to return the assets of the DEB Essentials Organization, this newspaper contacted Permanent Secretary in the Ministry of Sport, Alfred King for a comment on behalf of the minister who was unavailable to speak due to his presence in parliament.
King stated, however, that  he could not speak on the  matter or on behalf of the minister since he did not know much about the order.
That court order granted by Justice Dawn Gregory and Justice James Bovell- Drakes in the High Court on April 11 is a perplexing development,  considering that on March 22  the government had issued a 21-day ultimatum to the West Indies Cricket Board (WICB) requesting that all the records relating to the failed Guyana Cricket Board (GCB) in the DEB limited liability company be rectified to reflect the interest of Guyana.
Around the Web