Guyana's Jessica Stephenson, Thursday night won a gold medal in the 200m breaststroke event of the XXVII Carifta Swimming Championships in Nassau, Bahamas.
Stephenson won breaststroke gold with a time of 2:42:20s after entering the preliminaries seeded second with an entry time of 2:43.32s.
Though she swam well within her capabilities, she was able to qualify for the final where her winning time was more than two seconds ahead of second placed Breanna Roman of Jamaica who finished in 2:44.36.  The win earned Stephenson 644 points on the FINA scale.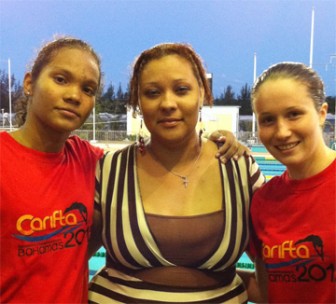 Meanwhile, Guyana's Britany van Lange placed a disappointing 13th in the 200m freestyle event on the second day.
According to a press release from Dr Karen Pilgrim of the Guyana Amateur Swimming Association (GASA) Van Lange entered the event seeded 13th with a time of 2:15.88 and
finished in 13th place with a time of 2:19.94s.
Jessica Stephenson, the other members of the three-person Guyana delegation, will be in action today in the 50m breaststroke event.
Jessica is seeded second in her event. Van Lange will also be in action today in the 100m freestyle event where she is seeded 15th with a time of 1:01.39s.
Stephenson and van Lange are accompanied by Coach Shyka Gonsalves.
Around the Web