KINGSTON,  CMC – Left-handed stroke-maker Jonathan Carter was on the verge of a maiden first class century and Barbados were in sight of first innings points but rain had the final say on the second day of the Regional Four-Day final here Saturday. The 24-year-old Carter fashioned an accomplished, unbeaten 96 as Barbados overcame some early hiccups to cruise to 197 for three before rain swept across Sabina Park, 18 minutes after the resumption from tea and ended play prematurely. Barbados dominated the day, needing just 19 balls to bowl Jamaica out for 273 after the hosts continued from their overnight 266 for eight, before setting about making inroads into their target with an impressive batting display.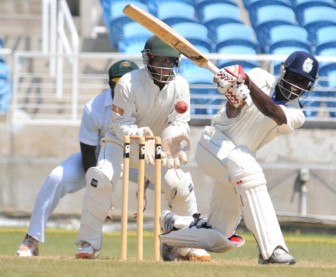 Carter has so far faced 172 balls and struck 10 fours and was accompanied by Dwayne Smith on 16. He was the mastermind behind a third wicket partnership of 144 between Jonathan Carter and Rashidi Boucher which pulled Barbados out of danger and put them in a strong.
The left-handed Carter and opener Boucher, who struck 52, dominated the post-lunch session as Barbados took control of the encounter, with purposeful batting.
Boucher, playing in his first match of the season, faced 133 balls and struck seven fours.
He raised his maiden first class half-century off 127 balls in 195 minutes with seven fours but fell moments later at 174 for two, caught behind off left-arm spinner Nikita Miller. Carter reached his half-century off 97 balls in 110 minutes with five fours and hardly put a foot wrong afterward as he easily negotiated Jamaica's varied attack.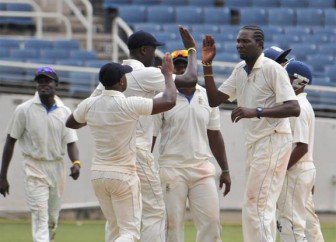 Carter and Boucher ensured Barbados added 107 in a session that was extended by 40 minutes to compensate for a protracted rain break.
The partnership also pulled Barbados around for 30 for two before lunch after fast bowler Andrew Richardson, who finished with two for 45, had made the early breakthough.
The tall pacer trapped left-hander Omar Phillips lbw off the first ball of the innings and then had Kyle Hope caught at cover by David Bernard Jr for 13, after the right-hander had put on 30 for the second wicket with Boucher.
Scoreboard
JAMAICA 1st Innings
(overnight 266-8)
B Parchment c Brathwaite b Benn                                        58
X Marshall c wkp Dowrich b Brathwaite                               19
D Pagon c Brooks b Benn                                                        71
D Hyatt b Brathwaite                                                           15
*T Lambert c wkp Dowrich b Benn                                       13
D Bernard Jr. c (sub) Justin Greaves b Brathwaite                 4
+H Miller c Brooks b Benn                                                18
N Miller not out                                                                  34
A Richardson c Searles b Benn                                                 7
S Cotterell b Best                                                                   15
O Brown c Brathwaite b Searles                                               1
Extras (b6, lb2, w3, nb7)                                                      18
TOTAL (all out, 93.1 overs)                                               273
Fall of wickets: 1-46, 2-154, 3-158, 4-186, 5-186, 6-195, 7-222, 8-239, 9-272, 10-273.
Bowling: Best 13-1-54-1, Searles 16.1-3-53-1, Smith 18-6-30-0, Brathwaite 17-3-38-3, Benn 29-5-90-5.
BARBADOS 1st Innings
O Phillips lbw b Richardson                                                   0
R Boucher c wkp H Miller b N Miller                                   52
K Hope c Bernard b Richardson                                         13
J Carter not out                                                                     96
D Smith not out                                                                    16
Extras (b5, lb3, nb12)                                                         20
TOTAL (3 wkts, 58.1 overs)                                               197
To bat: *S Brooks, +S Dowrich, C Brathwaite, J Searles, S Benn, T Best.
Fall of wickets: 1-0, 2-30, 3-174.
Bowling: Richardson 10.1-0-45-2, Cotterell 9-1-45-0, N Miller 22-7-39-1, Brown 10-1-28-0, Bernard 4-0-18-0, Lambert 3-0-14-0.
Position: Barbados trail by 76 runs with seven wickets intact.
Toss: Jamaica.
Umpires: Nigel Duguid (Guyana), Peter Nero (Trinidad & Tobago).
Around the Web