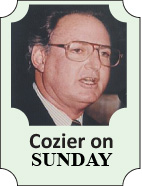 MICHAEL CLARKE might well be the motivational strategist he is being hailed as back home after Australia's pulsating victory in the Kensington Oval Test.
His confident assertion after the third day that Australia could win a match that, on the face of it, was heading for an inevitable, run- burdened draw revealed his "sense of adventure", inspired, he said, by Shane Warne's similar bravado after England declared at 551 for six in their first innings in the second 2006-07 Ashes Test and still lost.
His first innings declaration 43 runs behind (even if with nine wickets down) undoubtedly presented a timely challenge to opponents exasperated by the failure to finish off the tail-end and physically drained by an extended opening session of three hours.
Clarke rated it as "special awin as I've had in my career".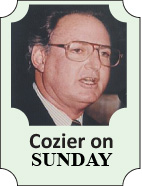 His thorough preparation should have included an examination of West Indies' history, immediate and recent past. It is research that would have predicated his prophesy, his declaration and his triumph.
The situation was uncannily similar to the West Indies' previous Test, in Mumbai last November. They then batted into the third day, amassed 590 and had India 331 for six in reply when the No.8 Ravichandran Ashwin, in his third Test, stalled them with a hundred, just as No.9 Ryan Harris' unbeaten 68 did on Tuesday, with help from his lower-order mates.
Even then, the West Indies set out on the last day leading by 189 with eight wickets in tact. By the end, they had scrambled to the relief of a tie-draw result.
In the first Test in Delhi, a 95-runs first innings lead was undermined by an all-out second innings collapse to 180 and defeat by five wickets.
And so the stories go. Defied by a last-wicket stand of 78 between Tanvir Ahmed (Tanvir who? you might ask) and Saeed Ajmal in the decisive second Test against Pakistan last season; 405 in their first innings at the Adelaide Oval in 2005 (Brian Lara 226), all-out 204 in their second and beaten by eight wickets; rolled over in their second innings by England for 47 at Sabina Park and 94 at Kensington after near first innings parity in 2004; dismissed for 165 and beaten at Old Trafford a couple of months later, canc 0elling out a first innings lead of 65.
Clarke spoke of "the power of positive thinking" and the "amazing character and self-confidence" of his players.
They are assets lacking in what, after all, is a young and inexperienced West Indies team (only Shivnarine Chanderpaul, 138, and Fidel Edwards, 52, of the present squad have played over 22 Tests) and the more they allow such strong positions as Kensington's to come to nothing, the more they are overcome by misgivings.
There are, to be sure, definite signs of progress, evident in the emergence of Darren Bravo, Kirk Edwards and Sunil Narine, the exciting all-round promise of Andre Russell and Carlos Brathwaite and the spirited performances in the preceding short-format series. But the exit to the Indian Premier League of five players from the shared ODIs and Twenty20s (Dwayne Bravo, Narine, Kieron Pollard, Russell and Marlon Samuels) reduced the selectors' options.
Yet, as Ricky Ponting noted prior to the series, one-day matches have little bearing on five-day Tests.
"The thing that always tests out countries without great depth is Test match cricket," Australia's former captain said.
For some time, there has been little depth to the West Indies' domestic game. It is a situation in need of the most urgent attention from administrators who, far from moving to revive it, 0committed it to an irrelevancy by their haphazard scheduling this season.
Trawl through the seven teams in the so-called first-class season and there is not a single valid alternative batsman to those who take the field at the Queen's Park Oval today.
Check the lamentably low totals (seven between 38 and 99) and the brief innings along with the dodgy pitches and it helps explain why bowlers lose the plot when the Harrises, Ashwins and Tanvirs don't easily succumb.
In the circumstances, it was laudable, if heart-wrenching all the same, for a team to which the routine of winning is confined to documentaries and books to press one that had just completed a 4-0 rout of opposition ranked No.1 just a few months earlier.
But there won't be any further advance until the West Indies develop the self-belief necessary for success in any sport. It was what once made their teams so supreme but it calls for a combination of crucial factors, prominent among them a unified effort from all involved.
ONCE again, and for good and obvious reason, the Decision Review System (DRS) has come under scrutiny for its inconsistency in the use of technology, most recently both in England's second Test in Sri Lanka and in the current series.
The third day of the first Test, with Davendra Bishoo in a probing spell, Michael Clarke was given out caught at the wicket by umpire Tony Hill, a decision that would have removed Australia's premier batsman and left his team shaky at 124 for four.
The appeal from wicket-keeper Carlton Baugh and his close to the bat colleagues was spontaneous and insistent but Clarke immediately signalled for a review. After an age scrutinizing various television replays, third umpire Marais Erasmus advised Hill to reverse his verdict, a choice he should only make if he is absolutely certain Clarke did not touch the ball.
To millions of others seeing the same pictures as Erasmus, the evidence was inconclusive in which case Hill's original decision should have remained and the scorecard would have read: Clarke c Baugh b Bishop 21, rather than Clarke c Deonarine b Bishoo 73, as it eventually did 91 runs later.
There was much more of a fuss In Sri Lanka when Tillekeratne Dilshan challenged standing umpire Bruce Oxenford's decision that he was caught at slip off Graeme Swann.
Third umpire Rod Tucker spent five minutes examining the replays before deciding, unlike Erasmus, that there was no definite proof for him to overturn the on-field call.
The problem is that, being two-dimensional; television cannot possibly be guaranteed to categorically reveal thin edges, especially for umpires whose expertise is not in the area of interpreting such images.
Only "Hot Spot" replays, taken by the infra-red camera, can do that. As it is prohibitively expensive, boards such as Sri Lanka and West Indies simply cannot provide it.\
The common sense consensus among umpires and players seems to concur with senior umpire Aleem Dar that "Hot Spot" should be mandatory for all international matches or not used at all. But then common sense is not all that common, especially among cricket administrators.
Around the Web