From Colin Benjamin in Trinidad
In the 83-year history of West Indies cricket, fast-bowlers and the West Indies cricket team literally go together like horses and carriages given the large number of highly-skilled fast-men produced by the regional team especially during the much glorified dynasty of 1976-1995 when they seemed to appear almost every day.
On the contrary, the proponents that combine guile, a plethora of unconventional deliveries (wrong un, teesra, doosra, googly, flipper, leg break, carron ball, off-break, slider) – commonly referred to as "spinners" – have not been produced with the same degree of regularity.
Only the famous 1950s off-spin/left-arm orthodox duo of Sonny Ramadhin and Alf Valentine and former world record holder for the most test wickets – Lance Gibbs are worth serious mention in this category.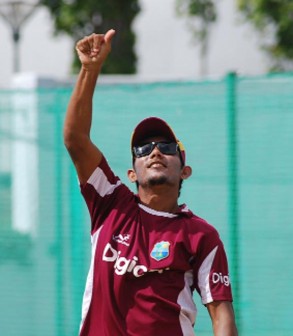 Notably, none of them are leg-spinners.
Understanding this historical dynamic is critical with regards to how erudite pundits or fans from any ideological spectrum may wish to judge Devendra Bishoo after his performance in the first test in Barbados last week.
An impressive debut year across all three formats in 2011, culminated in Bishoo being named International Cricket Council (ICC) Emerging player of the Year.
Back home, he was also bestowed with the 2011 Sportsman of the Year and Berbice Cricket of the year awards.
Friday evening here in Trinidad, he was adjudged International Player of the year at the West Indies Player Association Awards ceremony(WIPA).
Quite a riveting collection of awards for your first year in world cricket.
Given the turbulent history of leg-spinners in West Indies cricket where in recent times many leggies have not been given extended runs, Bishoo's run, is a  notable achievement.
Over the last 15 years a few leg-spinner did manage to break into the West Indies test team.
There was Trinidad's Dinanath Ramnarine who played 12 test matches from 1998 to 2002; Windward Island's Rawl Lewis, five (5) tests in 11 years from 1997-2008 in three countries (Pakistan, South Africa and New Zealand); Trinidad's Rajindra Dhanraj, four (4) tests from 1994-1996 and Guyana's Mahendra Nagamatoo five (5) tests from 2000-2002.
All were then inadvertently forgotten like a bad date.
Despite one's reservations whether the above mentioned genuinely displayed the prerequisite acumen to cut it at the international level,  it is clear that the proponents of the most difficult bowling art in cricket – leg spin – have not gotten much leeway from recent West Indies selection panels.
However, as most are aware, the recent ebullient arrival onto the scene of the latest off-spin doosra conjurer Sunil Narine over the last six months, basically rendered Bishoo at the start of the current home season against Australia to bench warmer status.
Eventually, due to his inactivity, the selectors sent him back to represent Guyana in the regional four-day semi-finals.
With Narine predictably taking up his lucrative USD700,000 contract, Bishoo donned the West Indies colours during the first test for the first time since the frenetic draw test versus India at Mumbai, last November.
His performance especially on the last day of the test on a noticeably wearing Oval wicket saw him being hit out of the attack.
This forced skipper Darren Sammy to call on the services of fellow Guyana and in-form part-time off spinner Narsingh Deonarine – at a crucial period of the test.
Sammy at the press conference yesterday continued to back Bishoo rightly by saying: "Bishoo is fine, I wouldn't even think about questioning him who was the ICC emerging player of the year based on just one bad performance.
"He is key player in West Indies future. We all as a players go through rough patches and it's a test of our character how we dig ourselves out of it."
This period for Bishoo in what is still the embryonic stages of his career, is the first big career challenge for him.
The presence of Narine and Shane Shillingford means Bishoo is no longer the first choice spinner for the Windies – but part of a talented depth.
The juxtaposition of how he deals with this hurdle starting today at Queen's park Oval (if he plays) will give an important early indicator as to whether the 26-year old Berbician could be one day potentially mentioned in the same breath in the pantheon of great West Indies spin merchants called Gibbs, Ramadhin and Valentine as the first notable West Indies leg-spinner or in the conglomerate of Dhanraj, Lewis and Nagamootoo or maybe somewhere in between the two extremes.
Around the Web