At a simple ceremony at the entity's head office on Water Street Friday afternoon, Marketing Manager Natheeah King- Mendonca presented a cheque valued $250,000 to Manager of the Hikers Hockey Club Junior Programme, Michael Harding, in the presence of players Leon Bacchus, Aroydy Bradford and Andrew Stewart.
In making the presentation, King- Mendonca said her company is pleased to support the development of young sportsmen and women, not just in hockey, but in other sport disciplines.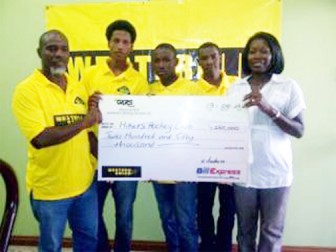 She said GKRS through its other subsidiaries, Western Union and Bill Express; have over the years been very benevolent to sport.
Harding thanked King- Mendonca and the management and staff of the establishment for their support, noting that the Hikers Club has been working very hard to make the entity proud.
The Club is unbeaten so far in 2012, having beaten all opponents at the Under-15, Under-21 and second division levels.
Around the Web