Next month will mark the first anniversary of the founding of the 'Community Football' team in East Ruimveldt.
Founder of the team, Donna Hollingsworth said that she is hoping to have the team registered and the young people involved in organised football.
Hollingsworth said the team was formed on Wednesday, May 15 last year. According to her,  she was distracted by the noise being made by a group of boys enjoying a game of football in the yard of the St. Pius Church.
"The children are a part of the body of Christ and I just feel that if I spend some time with them, I would be one person doing something good for the community. At least keeping them out of trouble I can say that this child was with me the entire afternoon instead of them gambling or being involved in any criminal activities."
Hollingsworth said when the team started it was named 'Church Yard' but since moving to the community ground it was changed to 'Community Football'.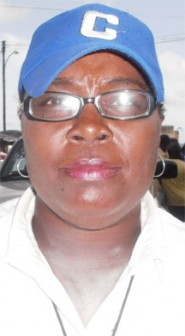 Asked why there no females on the team, Hollingsworth said that it is too much a responsibility for her to shoulder, "NO GIRLS, strictly boys. I don't deal with girls because I have two eyes and I wear glasses and I can't see when the girls slip over to the boys or when the boys slip over the girls, so I am not encouraging girls to play with boys."
In explaining her decision not to have females involved, she said, "Boys have lost their morals and are disrespectful to women. I have also instituted rules such as no cursing or fighting, if you hit another player or anyone else intentionally you have to say sorry while I am here."
The boys, she said, have not participated in any organised football competition because she is unaware of how to go about registering her team, but said that it is her dream to have the team registered with an association and compete in organised football.
"I met the Prime Minister a month ago and I spoke to him and asked for assistance of balls and uniforms because I really want the boys to be happy."
She also said that a few of the players on the team were with her since the team started last year and it would be nice that they are recognised.
"For boys especially the young boys from ages 8 and nine start gambling, straying or the wrong gang. I have a lot of wrangling with them. I discipline them if they curse, they are suspended for one game but if they apologise they might be lucky to be allowed to play another game. But once they start giving me lip you have a choice."
And according to her, her approach continues to work as they are in love with the game. "I want them to feel loved, I love them, I hug them, I don't care how bad they are but I try to work with them."6
Hollingsworth said that she rarely receives support from the community to assist with the development of the young people.
"First when I started I took my own money and I started it. Fortunately some people who know me from working with the children in the churchyard would help me if I am short to buy a ball. If I want a trophy I would ask someone to buy it. Sometimes they do sometimes they don't, but I don't put a price tag on anybody but whatever they give I am thankful."
Hollingsworth said she currently has two balls, but has faith that football gear would be presented to the team.
Hollingsworth who runs a shop at her East Ruimveldt home said that in the past she set aside a portion of her profit to provide snacks for the children, but said she could not sustain it and decided to seek assistance from parents and others in the community, but that has not been regular. However, that has not deterred the young people from coming to the ground to play the sport which they love.
According to Hollingsworth the team comprises players from eight to twenty-three-years. "Some of them are registered while others are not registered and I am not writing down any more names because children just keep coming all the time. So I am just praying to God that everything goes good."
Hollingsworth said that once she has been able to implement a proper structure she would resume registration, but she has no problems with the children coming to enjoy a game of football as it gives them something wholesome to do.
Hollingsworth admitted that she does not know a lot about the sport, but said that she is receiving a lot of assistance from many of the older players who are members of registered and recognized teams.
Four of those players are Devon Forde, Raphael Charles, Travon Evans and Dantae Forde – all of whom started with Hollingsworth last year and they said that they will continue to work alongside Hollingsworth as she tries to improve their community.
"It is fun and you know that you just come out to free up yourself in the afternoons," is what Devon Forde said is responsible for him going to the field whenever there is practice.
Charles said that he chose to be a part of the team as it keeps him from trouble. "You know how boys stay, they always in trouble. So I just come over here on Sundays to enjoy myself and keep me out of trouble."
Around the Web