Coach of Alpha United Football Club Wayne `Wiggy' Dover said yesterday that the team was fully prepared for participation in Group Two of the Caribbean Football Union (CFU) tournament.
The CFU championship starts today with all games being played at the Providence Stadium.
According to Dover the team has been playing very well in the Guyana Football Federation ongoing Super League tournament.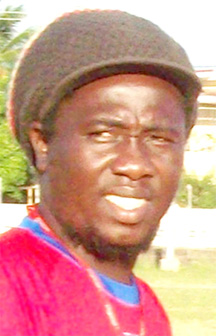 "At present we are leading in the points standings and I think those Super League games are practice for us."
Dover also said that there were talks of utilizing overseas players but said there were some issues that needed to be finalized.
Vice President of Alpha United, Steve Ninvalle said that Alpha United was fully aware of what is expected of it in this competition and is working toward achieving it.
"We are yet to secure victory over Inter Moengotapoe and we will leave no stone unturned in relation to preparation so as to secure that victory because from this two teams from this group will go forward and I think that you all know that we attended the CONCACAF Championship, so this is a stepping stone."
Alpha United, said Dover, finished third in the CFU Club Championship which enabled them to compete in the CONCACAF play off championship where the team drew one match and lost the other.
Today, Milerock will come up against Hubentut Fortuna of Curacao to be followed by the Alpha United vs. Inter Moengotapoe (Suriname) encounter. Matches are also scheduled for Thursday and Saturday.
Around the Web