KINGSTON, Jamaica,  CMC – A ruthless Jamaica completed an unprecedented fifth straight Regional first class triumph when they crushed Barbados by 139 runs here yesterday.
In a dramatic turn of events, Jamaica ousted Barbados for a miserable 90 after the visitors had been set 230 to win the Regional Four-Day final on the last day of the contest at Sabina Park.
Seamer David Bernard was the chief architect of Jamaica's win, snaring four for 34 while leg-spinner Odean Brown took three for nine and left-arm spinner Nikita Miller, two for 12.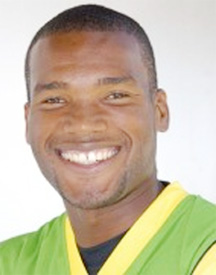 The victory topped off another brilliant season for Jamaica who won all their games in the preliminary round to top the tables with 72 points, before crushing Guyana inside three days in the semi-finals, just over a fortnight ago
Jamaica had earlier added quick runs after resuming at 133 for two, before declaring 45 minutes before the interval at 247 for five.
Donovan Pagon added just three to his overnight 42 before becoming the first victim of the day but captain Tamar Lambert blasted an unbeaten 42, Danza Hyatt 33 and Horace Miller, 22 not out, as Jamaica added 114 runs from just 18 overs.
Left-arm spinner Sulieman Benn, voted Man-of-the-Match, finished with four for 67 for match figures of nine for 157.
Bernard then produced a devastating spell, taking four for 19 from six overs to reduce Barbados to 36 for five at lunch.
There was to be no recovery as Brown and Nikita Miller combined to mop up the lower order, despite wicketkeeper/batsman Shane Dowrich's attacking 32.
Having surrendered first innings points, Jamaica started the day needing something special and got just that.
They lost Donovan Pagon after he had added just three to his overnight 42, caught behind off Benn, but Lambert and Hyatt added a hasty 29 for the fourth wicket.
Lambert scored faced just 47 balls and hit three fours in his breezy knock while Hyatt faced 37 balls and cracked two fours and a six.
When Hyatt swept Benn to Tino Best at backward square at 176 for four, Bernard entered to smash 21 from 22 balls with one four and two sixes while Horace Miller followed up by belting two sixes in a 21-ball 22, as Jamaica's innings finished on a high.
Barbados, just needing to bat out the day to take the title on first innings points, then suffered a dramatic collapse.
They lost opener Rashidi Boucher in the second over of the innings, caught behind off Bernard without scoring at two for one before his left-handed partner Omar Phillips went in Bernard's next over, caught at slip by Pagon for one, attempting to play no shot at six for two.
Bernard continued to rip through the Barbados top order, claiming Kyle Hope for seven, caught at first slip by Lambert in his next over at 11 for three.
Dwayne Smith perished off the very next delivery, caught at slip by Hyatt before Jonathan Carter fell for 12 at 25 for five, lbw to fast bowler Andrew Richardson.
Dowrich counter-attacked with five fours in his 56-ball innings, putting on a brave 42 for the sixth wicket with captain Shamarh Brooks who made five off 21 balls.
However, both batsmen fell with the score on 68, signalling the beginning of the end for Barbados as the last five wickets fell for 22 runs.
Scoreboard

JAMAICA 1st Innings 273
BARBADOS 1st Innings 291
JAMAICA 2nd Innings
(overnight 133 for two)
B Parchment c wkp Dowrich b Benn          42
X Marshall lbw b Brathwaite                         22
D Pagon c wkp Dowrich b Benn                   45
D Hyatt c Best b Benn                                      33
*T Lambert not out                                          42
D Bernard c and b Benn                                   21
+H Miller not out                                               22
Extras (b9, lb5, w2, nb4)                              20
TOTAL (5 wkts decl, 49 overs)                247
Fall of wickets: 1-55, 2-100, 3-147, 4-176, 5-201.
Bowling: Best 4-0-21-0, Searles 5-0-23-0, Brathwaite 21-1-101-1, Smith 5-2-21-0, Benn 14-1-67-4.
BARBADOS 2nd Innings (Target: 230)
O Phillip c Pagon b Bernard                             1
R Boucher c wkp H Miller b Bernard           0
K Hope c Lambert b Bernard                         7
J Carter lbw b Richardson                             12
D Smith c Hyatt b Bernard                               0
*S Brooks c Hyatt b Brown                              5
+S Dowrich c Hyatt b N Miller                    32
C Brathwaite c Hyatt b Brown                       3
J Searles st H Miller b N Miller                     0
S Benn not out                                                   10
T Best b Brown                                                     8
Extras (b1, lb4, w1, nb6)                                12
TOTAL (all out, 26.3 overs)                      90
Fall of wickets: 1-2, 2-6, 3-11, 4-11, 5-26, 6-68, 7-68, 8-71, 9-77, 10-90.
Bowling: Richardson 5-2-12-1, Bernard 8-2-34-4, Cotterell 4-0-18-0, N Miller 5-1-12-2, Brown 4.3-1-9-3.
Result: West Indies won by 139 runs.
Man-of-the-Match: Sulieman Benn.
Toss: Jamaica.
Umpires: Nigel Duguid (Guyana), Peter Nero (Trinidad & Tobago).
Around the Web