From Colin Benjamin in Trinidad
A five-wicket haul from South Australian off-spinner Nathan Lyon late in the final session aided in curtailing the West Indies fight-back and maintained the visitors' strong position midway of the second Digicel test at the Queen's Park Oval, Port-of-Spain, Trinidad, yesterday.
Resuming the day on 49/3 the West Indies, who were at one stage 230/4 due to a record fifth-wicket partnership of 130 between Guyanese colleagues Shivnarine Chanderpaul and Narsingh Deonarine, collapsed to end the day's play on 252/9 – still some 59 runs in arrears.
In bright, early morning sunshine, the Oval was rife with optimism amongst the home fans that a strong revival could be orchestrated with the presence of left-handers Darren Bravo and Shivnarine Chanderpaul at the crease.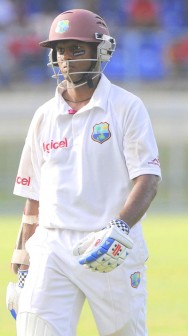 However, this was tempered due to a 20-minute interruption in the opening session due to power outage at the Oval which cut off the Decision Review System (DRS) camera's resulting in the Australian team declining to go onto the field.
It was later revealed that match officials decided to suspend play initially because they all wanted to make sure no commercial interests would be breached if they played without the DRS.
The power outage on the second morning was not the first of the match, as one Michael Beer over on the second evening was played out without television working at the ground. In that over Beer appealed strongly for a lbw decision against Adrian Barath but Australia was unable to refer the decision.
Play eventually commenced at 9:50am yesterday and, in the third over of the morning, the Australians missed a big chance to get rid of Chanderpaul who was then on nine (9) and the score 61/3 after 31 overs.
The veteran left-hander tried to cut a delivery from Lyon that ricocheted off wicket-keeper Matthew Wade's gloves but skipper Michael Clarke failed to clinch the rebound.
Given the obvious similarities  Chanderpaul has to West Indies batting line-up in comparison to Michael Hussey, Carlton Baugh's missed chances on the first two days were immediately recalled.
Bravo and Chanderpaul began to assert themselves on the proceedings playing some handsome shots all around the wicket as the Windies brought up the 100 in the 43rd over, when some sloppy Aussie fielding caused them to concede five (5) overthrows.
Clarke, whose tenure of captaincy has been regularly praised,  made a master-stroke in the same 43rd over by introducing Hussey who was to orchestrate Bravo's downfall.
Hussey, bowling wicket to wicket, struck a telling blow by  trapping Bravo 38 (94 balls, 5×4) leg-before to a delivery that the Trinidad left-hander played all round – although it swung in – leaving the home side on 100/4.
Deonarine joined Chanderpaul and as the lunch interval beckoned, run-scoring grounded to   a total standstill with a miniscule 15 runs being scored over the next 15 overs.
In the penultimate over before lunch Deonarine swung Lyon away for two well-timed leg-side boundaries.
The first ball of the final over before lunch saw Chanderpaul sweeping left-arm spinner Beer powerfully to the square leg boundary which brought the crowd that had become fairly despondent to life.
Ecstasy almost became shock just two balls later as Chanderpaul pushed a drive wide of mid-on and set off for a run.
Deonarine was caught napping, and came agonisingly close to being run out as the throw from Hussey to the `keeper saw Deonarine in by only by half a frame.
When the rain interrupted second session commenced Chanderpaul immediately made his intentions known by hitting fast-bowler James Pattinson for three off-side boundaries in the second over.
When play was cut play off at 1:44pm, the West Indies had motored along scoring 56 runs in 14.3 overs after lunch.
Play resumed at 3:11pm and the aforementioned pairing in the face of regular bowling changes by Clarke, continued to maintain the ascendancy.
Chanderpaul, who in the previous test had eclipsed Sir Vivian Richards century tally of 24, duly passed Sir Garfield Sobers, when he slog swept Beer into  the  Dos Santos stand for six to move to 87 as the West  Indies total shot past 200.
Chanderpaul's partnership with Deonarine broke the West Indies fifth-wicket record at the Oval against Australia, surpassing the previous stand of 100 between Richards and Gus Logie in 1984.
The re-introduction of Lyon for the final exchanges of the day triggered another "Calypso Collapso" as the West Indies lost five wickets for 22 runs in 12 overs.
Lyon's spell read 9-4-16-5 as he clinched his second career five-wicket haul following his debut five-for versus Sri Lanka last August.
He first had Deonarine stumped for 55 (139 balls, 7×4, and 1×6)) before trapping Chanderpaul plumb in front for 94 (217 balls, 10×4, 1×6).
The left-hander who scored an unbeaten ton in the first test, fell six runs short of his 26th test ton, that would have drawn him level with the legendary Sobers.
Captain Darren Sammy was outmaneuvered by his opposite number who set a leg-side trap for him and he obliged, by lofting Lyon timidly to Hussey at long-off.
Shane Shillingford prodded a catch to Ed Cowan at short-leg and Kemar Roach was strangled down the leg-side for a duck.
Carlton Baugh and Fidel Edwards survived some close leg-before appeals in the final five overs of an intriguing third day to live on to fight another day for the Caribbean side.
SCOREBOARD
AUSTRALIA 1st Innings 311
WEST INDIES 1st Innings
(overnight 49 for three)
A Barath lbw b Beer                                                                 7
K Brathwaite lbw b Hilfenhaus                                                 0
K Powell lbw b Pattinson                                                    19
D Bravo lbw b Hussey                                                           38
S Chanderpaul lbw b Lyon                                                   94
N Deonarine st Wade b Lyon                                                  55
+C Baugh not out                                                                         17
*D Sammy c Hussey b Lyon                                                     1
S Shillingford c Cowan b Lyon                                                4
K Roach c wkp Wade b Lyon                                                  0
F Edwards not out                                                                  0
Extras (lb8, w1, nb8)                                                                17
TOTAL (9 wkts; 104 overs)                                                252
Fall of wickets: 1-0 (Brathwaite),2-26 (Barath), 3-38 (Powell), 4-100 (Bravo), 5-230 (Deonarine), 6-231 (Chanderpaul), 7-237 (Sammy), 8-241 (Shillingford), 9-249 (Roach).
Bowling: Beer 25-9-52-1, Hilfenhaus 16-4-39-1, Lyon 29-9-68-5, Pattinson 11-2-40-1, Hussey 6-1-19-1, Watson 12-5-14-0, Warner 3-1-9-0, Clarke 2-0-3-0.
Position: West Indies trail by 59 runs.
Toss: Australia.
Umpires: Marais Erasmus, Ian Gould; TV – Tony Hill.
Around the Web