PORT OF SPAIN, Trinidad — When Narsingh Deonarine went to the crease with West Indies in deep trouble yesterday morning, he knew he had a huge fight on his hands.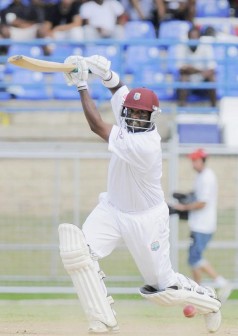 The left-hander West Indies batsman fought, making a determined 55 in over four hours at the crease to pull the hosts around on the third day of the second Digicel Test match against Australia at Queen's Park Oval.
He found the perfect ally in the ever-reliable Shivnarine Chanderpaul, who fell for 94 — agonisingly short of what would have been the 26th hundred of his outstanding Test career and second century in as many matches, following the superb 103 in Barbados last week.
The pair of left-handers came together early in the day and added 130 for the fifth wicket, as the Windies made a strong reply to Australia's first innings of 311.
The home side however suffered a batting slide late in the day and closed at 252-9, with off-spinner Nathan Lyon taking five wickets.
Deonarine, who made a return to Test cricket last week, said the Queen's Park Oval pitch was a challenging one for the batsmen, but he enjoyed the time he spent at the crease with Chanderpaul at the other end.
Deonarine played some well-timed drives and counted seven fours and a big six over midwicket, in his third Test half-century.
"It's always great to bat with Shiv, he's an inspiration," said Deonarine. "You couldn't have asked for a better man at the other end in that kind of a situation.
"He has been in those tough situations so many times and he knew exactly what to do to pull us out. He is someone I have learnt a lot from over the years and he helped me throughout the innings."
Deonarine added: "After losing Bravo early in the day, I knew I had to really dig in and look to build up a partnership with Shiv. We talked a lot about rotating the strike and not allowing the bowlers to settle and bowl too long at anyone of us.
"It was not an easy pitch to bat on and scoring was difficult. It was not the ideal pitch for strokeplay, so as a batsman, you had to leave out some of the attacking strokes and look to graft and build."
Deonarine concluded: "So far when you look at it, everyone has struggled, so we knew it would've been a tough battle out there. I've come back into the team and into Test cricket after some time away and I've come back as a fighter."
Around the Web