By Emmerson Campbell
Two second half goals by Hubentut Fortuna FC of Curacao saw them securing a two-one victory over Milerock FC in the first game of a double header of the Caribbean Football Union (CFU) Club Championships which kicked off at the Providence National Stadium yesterday.
Goals by midfielders Trinidad Lisanda and Gomes Chacas Adriano Jose in the 69th and 79th minute respectively, earned the visitors a come-from-behind win.
In what can be described as a game of contrasting halves, Hubentut Fortuna simply outplayed Milerock in the second half.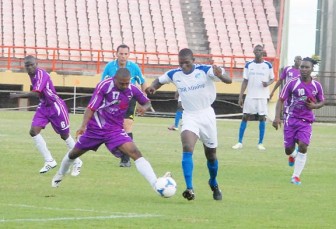 With crisp ball movement and gritty defence, the club from the mining town created several chances in the first half, but several were wasted especially by midfielder Steve Brewley who missed two shots from point blank range.
The locals kept applying pressure on Hubentut Fortuna's defence and were rewarded in the 31st minute when striker Keon Sears found the back of the net with a right footed pat just inside the 18-yard box. The Lindeners would continue to work the defence of the Curacao club, but Hubentut Fortuna's goalkeeper Weijman Elfred, made sure the lead remained one-nil at halftime.
In the second half however Hubentut Fortuna's fortunes would change as they came out with a renewed energy and aggression.
Milerock's defence slackened and the opposing strikers repeatedly weaved their way into the 18-yard box but saves were made by the 'keeper Darius Frank.
Frank, however, would commit a foul inside the penalty box in the 62nd minute and a penalty was awarded.
Espacio Everon took  the penalty kick but his soft shot was saved by Frank preventing Hubentut Fortuna from equalizing.
Seven minutes later however Lisanda weaved his way around Milerock's defence, found himself less than 10 yards away from the goal and blasted a low, right footer that needled the outstretched hand of Frank for the equalizer.
Ten minutes after the equalizer, Jose sent a right foot screamer that found the back of the net from 30 yards out surprising the Guyanese and sprawling Frank. The shot sent Hubentut Fortuna's bench into a frenzy as they knew the end was near.
Milerock again had their moments to equalize but a combination of off target shots and saves by Elfred left the visitors with the victory.
Action continues tomorrow at 16:00hrs when Hubentut Fortuna plays Alpha United who lost their game against Suriname's Moengotapoe 1 nil. Milerock will also face Moengotapoe tomorrow.
Around the Web