By Emmerson Campbell
Alpha United will look to bounce back from Tuesday's defeat against Inter Moengotapoe when they tackle Hubentut Fortuna of Curacao while  Inter Moengotapoe will look to continue their winning ways against Milerock when the Caribbean Football Union (CFU) Club Championships continues today with a double header at the Providence National Stadium.
Alpha lost 0-1 to the Suriname club side after squandering several scoring opportunities including point blank shots from Dwight Peters and Andrew Murray Jr.
During a recovery session at the Georgetown Sports Club ground Thomas Lands, Stabroek Sport caught up with Alpha United's coach, Wayne Dover, who revealed what went wrong against the Suriname side.
Dover also spoke of his team's plans for the Curacao's club side which defeated Milerock 2-1 on Tuesday.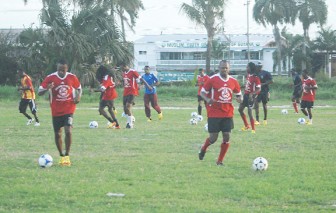 "In the game against Inter Moengotapoe in the first half we lacked aggression and we were not joining in the offense when the ball was being played forward.
"I spoke with them about that at half-time and we did rectify it but we did not convert the chances we had to score," he said.
Dover added: "Our game plan was to sit in position and invite our opponents and the counter attack whatever mistakes they made.
"I think we did enough to win the game but we just didn't convert our opportunities," he added.
According to Dover, despite the defeat the team's spirit was still high and their strategy will be the same against Hubentut Fortuna as all they have to do is convert their chances for a victory.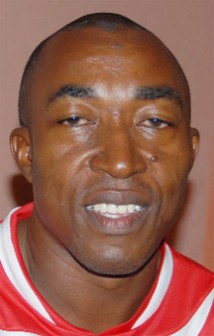 "Our team spirit is still high although we were disappointed. We are motivated, we have two more games and we are positive, we have put that loss behind us and we are looking forward, once we capitalize on their mistakes and convert we will win," Dover assured.
Inter Moengotapoe's coach Jeroe Hesron said he was treating the Milerock match up as a must-win a game.
"This is a must-win game for us," said Hesron during an interview at the Raddison Suites hotel where the team is staying.
"We must win! When we beat Milerock, we go on to the next round to face Trinidad and Tobago. But it's not about that alone, last year Milerock beat us and sent us out of the tournament so it is like a revenge game."
Hesron also went as far to say that the victory is assured as he thinks Alpha United gave his team more opposition than what Milerock would bring.
"I think Alpha gave us more opposition than Milerock would give us. We will be looking to win convincingly but despite the scoreline, we must win against Milerock. We came here to win all of our games. The team spirit is good, every player likes the system and everyone wants to win the tournament," said a confident Hesron.
The four teams are battling for a chance to advance to the CONCACAF Club Championships.
The double header action kicks off at 16:00hrs.
Around the Web