Two United States-based former students of the Guyana Wado Ryu Karate Association recently presented training equipment to the local body in their quest to promote the sport.
Michael Demendonca and Terrance Clarke made donations of karate mitts and headgears to the association recently.
Clarke and Demendonca son Dhillon made the presentations to Chief Instructor Sensei Winston Dunbar during a simple ceremony at Banks DIH Sports Club.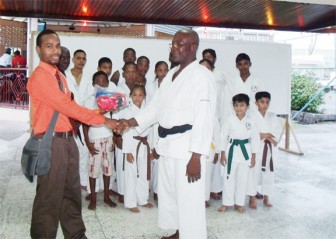 Sensei Dunbar expressed appreciation to Demendonca and Clarke for their continued assistance to the association and assured them that the equipment would be used for the development of its members.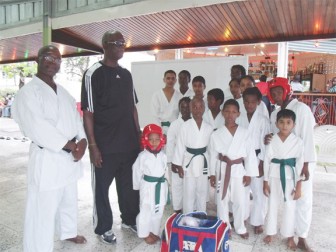 Demendonca last year presented 30 medals to the association for the annual Wado Ryu Club championships.
"We look forward to similar assistance from donors to improve the work of the Association and affiliated clubs," said Dunbar.
Sensei Dunbar said three dojos are affiliated to the association; they are Banks DIH Sports Club, Mae's School in Subryanville and Eccles Primary School on the East Bank of Demerara.
Sensei Dunbar said interested persons can contact any of the centres to register or telephone 650-6836.
Around the Web