William Walker warmed up for this weekend's Torginol Paints Medal Play tournament with a convincing victory in last weekend's club tournament at the Lusignan Golf Course.
In a tidy round of golf, Walker took first place after he shot a near impeccable front nine of 36 – one over par. He then proceeded to bogey the next six holes.
However, an inspired four iron from 200 yards on the number 15 landed a mere foot from the cup for a tap in birdie.
Then on the par five number 16, pressing too hard for another birdie, he pulled his fairway drive badly only for the ball to accidentally hit a tree and land in the fairway bunker.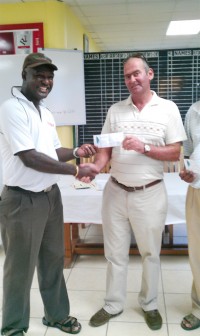 He went on to par the remaining three holes for a back nine 39 and a gross 75, net 68.
It was enough to secure victory over Ramesh Amrud's 81 gross, net 69, who had a better back nine than Patrick Prashad's 76 net 69 which included 11 pars in a row.
Saturday's Torginol Paints tournament will feature the cream of the country's golfers in what is expected to be a keenly contested affair.
Walker will have to contend with the likes of the inform Prashad, Brian Hackett, Rawl Moore, Mike Mangal, Mark Lashley, Troy Cadogan, Colin Ming, Christine Suhkram, Maurice Solomon, Clifford Reis, Brian Glasford, John Tracey, Hilbert Shields, Ronald Bulkan and Dr. Ram Singh.
Tee off is at 12:30 hours.
Meanwhile, the Annual Scotia Bank Classic will take place on April 28.
Around the Web