Recalling the ancient proverb, 'Like father, like son', Guyana sprint queen Alisha Fortune and her daughter Andrea Foster have changed the gender to 'like mother, like daughter'.
Fortune at age 37 remains the only constant in the evolution of track and field in Guyana over the last decade and believe it or not, Fortune started her career as a distance athlete…a path her daughter is  following.
Being a mother of three; two boys and one girl, Fortune has continued to hone her skill while making great strides in bodybuilding as well but her exploits on the track are what distinguish her.
While her career enters the twilight zone at 37, Fortune still believes in her ability on the track and nurtures the hope of making the Olympics but while her chances might look slim in this area, she can still be a formidable athlete in the masters category in which she has indicated an interest.
Meanwhile her daughter, Foster who started her athletics career a little over a year ago in the long distance events just like her mother did in the early part of her career, has definitely shown talent.
The 15-year-old ran her way to gold last year in the 3,000 metres at the Inter-Guiana Games (IGG) while taking silver in the 1,500 metres at the games behind her club mate and two-time Carifta 1,500 metres gold medalist Jevina Straker.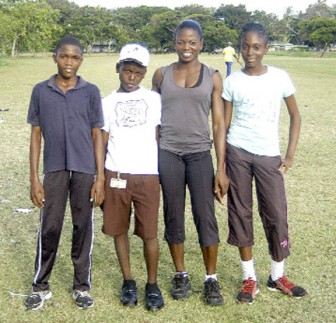 This year, Foster has eclipsed that showing by running away with bronze at the Carifta Games in Bermuda, an event that is the most prestigious junior meet among the best Caribbean nations.
This was a feat her mother could not have achieved in her early years as financial constraints kept her away from many games in the past, including the prestigious Carifta Games.
Never before has Guyana seen such success in one family on the track since the Alleyne sisters in Rhobyn and Rhondell.
However, it would be unfair to compare the two, since the generational gap between mother and daughter is significant which makes the success of Fortune in her twilight years and Foster in what can still basically be termed her first year so extraordinary for the family.
Meanwhile as Foster will definitely be a bright prospect to develop into something special, her twin Adrian Foster also competes over the longer version of races on the track and if he turns out to be as talented as his sister or mother, there is no telling what new dimensions they could add to an already successful and talented  track family.
Around the Web