By Emmerson Campbell
Milerock suffered a 7-1 drubbing from Inter Moengotapoe, while Alpha United secured a 3-1 victory over Hubentut Fortuna as the local football clubs suffered mixed fortunes on the second day of the Caribbean Football Union (CFU) Club Championships yesterday at the Providence National Stadium.
Strikes by Stefano Ryssel (8th and 87th minute), Jerrel Adensiba (28th  minute), Claudio Pinas (52nd minute), Clarence Plein (86th minute) and penalty kicks by captain Patrick Jimmy (62nd and 76th minute) made up the goal fest by the Surinamese club.
With crisp ball movement and gritty defence, Inter Moengotapoe thoroughly outplayed the Linden-based club, which would have been held scoreless if Jermaine Fordyce had not scored on the stroke of half time.
Ryssel, a Surinamese national player, opened the scoring for his club just eight minutes into the game off a right-foot slam after his shot eluded the outstretched arm of Milerock's keeper Darius Frank.
Twenty minutes later Frank was called for a six-second violation and a free kick was taken, the free kick bounced off of Milerock's wall but Adensiba pounced and blasted the ball into the net from point-blank range increasing the visitors' lead.
Fordyce would score just on the stroke of half time, keeping his team's hopes alive.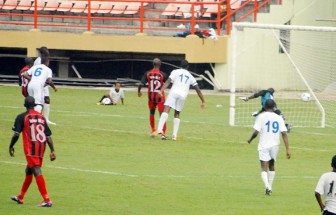 Both teams came out aggressively to try and seize the initiative as both goal keepers had to make saves within the first two minutes.
A header by Pinas in the 52nd minute after a free kick however deflated Milerock's hopes of making a comeback.
Fouls committed by the Crandon brothers, Michael and Ryan on opposing players in the penalty area, put the nail in Milerock's coffin as both penalty kicks were converted by Inter Moengotapoe's skipper.
Milerock's clearly dejected defenders, showed little interest in continuing as they allowed Plein to dribble all the way from midfield and score Inter Moengotapoe's sixth goal inside the 18-yard box.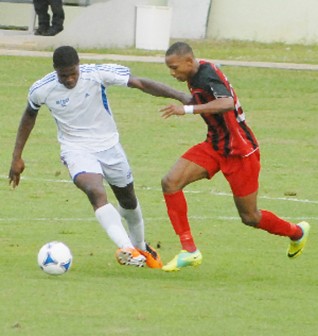 One minute later Ryssel buried Milerock when he scored his double after he pounced on a ball that ricocheted off of Frank's gloves after Frank failed to hold onto a save.
Meanwhile two first half goals by Andrew Murray Jr. (6th minute) and Anthony 'Awo' Abrams (25th minute) and a second half goal by Murray's substitute Daniel Wilson (85th minute) ensured that Alpha United kept their hopes alive after they lost 1-nil to Inter Moengotapoe  on Tuesday.
Alpha United squandered several chances in their first game on Tuesday, something coach Wayne Dover blamed for their loss, however the Georgetown based team bounced back by converting their chances and were rewarded with the win.
Jose Adriano Chacas Gomes scored for the Curacao-based club off a header in the second half.
Action continues tomorrow at 16:00hrs when Hubentut Fortuna tackles Inter Moengotapoe while Milerock will face Alpha United.
Around the Web