YAOUNDE, (Reuters) – Former Cameroon striker Roger Milla has set up a committee to press for the axing of the country's football federation and the return of captain Samuel Eto'o to the national squad.
Milla is worried Cameroon, who failed to qualify for this year's African Nations Cup, may also miss out on the next edition of the tournament.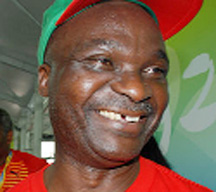 "We have to put back our football on the rails, good footing because what we are going through with the current management team is unbelievable," Milla told reporters on Thursday following the launch of a committee to "redress" Cameroon football known by its French acronym COCIREFCA (Comite Citoyen pour le Redressement du Football Camerounais).
"Nobody seems worried as we move from failure to failure. This must end and things must move forward. The current FECAFOOT management team has to go, (president) Iya Mohamed and his men must make way. Cameroon football can no longer be run by kidnappers," Milla said.
The committee has been set up by a group of former players who want a bigger say in federation affairs. Milla has long had run-ins with football authorities in Cameroon but enjoys a special status because of his goal-scoring exploits in helping the country to reach the 1990 World Cup quarter-finals.
Eto'o is suspended after leading a strike by the national team over unpaid money. This led the cancellation of a scheduled friendly international in Algeria in November.
Around the Web