(Reuters) – South Africa-born pace bowler Neil Wagner has been declared eligible to play for New Zealand after the International Cricket Council ruled there were special circumstances why he did not meet residency regulations, NZ Cricket said yesterday.
The ICC requires a player to spend at least 183 days in a country for four successive years to be considered for selection.
The 26-year-old Wagner, who moved to New Zealand in 2008, failed to achieve the minimum number of days on two occasions.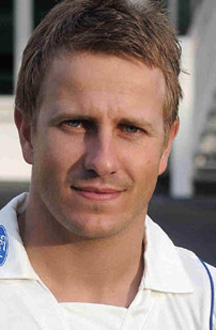 Once because he was playing a Twenty20 competition overseas with his New Zealand province Otago and the second time due to a family wedding. NZC then sought dispensation from the world governing body to select the left-armer, who took a record five wickets in one over in a first class match in 2011.
"Approval was given for both occasions meaning the South African born player is now available for selection by New Zealand," NZC said in a statement on Thursday.
New Zealand, who were beaten by Wagner's native South Africa in their Twenty20, one-day and test series last month, tour the West Indies in July and August before a trip to India in late August and September.
If selected, Wagner would join a growing list of recently capped New Zealand players born in South Africa.
Wicketkeeper batsman BJ Watling and wicketkeeper Kruger van Wyk both played tests earlier this year, while all rounder Grant Elliott played for New Zealand in 2008 and 2009.
Middle order batsman Dean Brownlie also spent most of his life in Western Australia and moved to Christchurch in 2009 but qualified for his adopted country through his New Zealand-born father.
Around the Web