By Emmerson Campbell
Suriname club side Inter Moengotapoe booked a place in the second round of the Caribbean Football Union (CFU) Club Championships while Alpha 'The Hammer' United kept their hopes alive after the two clubs defeated their respective opponents yesterday at the Providence National Stadium.
In the first game of the double header Inter Moengotapoe edged Curacao club Hubentut Fortuna 3-2 while Alpha `The Hammer' United hammered Milerock 2-0.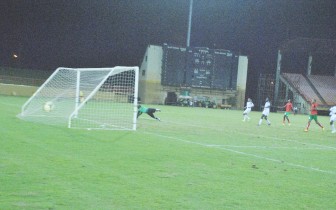 A first half goal by captain Patrick Jimmy (44th minute) and two second half goals by Ives Vlyker (65th) and current leading goal scorer Stefano Ryssel (70th minute) ensured that Inter Moengotapoe remained unbeaten in their three games so far in the tournament.
Jose Adriano Chacas Gomes scored on the stroke of half-time and Dwight Belliot (60th) scored the other goal for Hubentut Fortuna.
Jimmy opened the scoring for his team after he converted a penalty while Vlyker scored after he dribbled his way into the 18-yard box and sent a right-footed shot which evaded the outstretched hand of Elfred Weijman, the Hubentut Fortuna 'keeper.
Ryssel, a Surinamese national player, closed the scoring for his club after he pounced on a failed saved by Weijman that ricocheted into his path. Ryssel's left-footed pat broke the deadlock and sent  his teammates into a frenzy.
Meanwhile, Alpha United thoroughly outplayed the winless Milerock team to secure their second successive victory after they lost their opening game to the Suriname side on Tuesday.
Crisp ball movement and gritty defence led to strikes by Anthony 'Awo' Abrams (eighth minute) and Daniel Wilson (73rd minute) who both scored their goals from inside the 18-yard box.
Despite squandering several chances to increase the score line, the city based team's victory was never in doubt as they outplayed the team from the mining town in all facets of the game.
By virtue of winning all three of their games Inter Moengotapoe leads the group with nine points followed by Alpha United on six points. Hubentut won a solitary game versus Milerock and are on three points.
Ryssel, who has scored in each of his games, is the leading goal scorer with four strikes.
The second round of the tournament will kick off in Trinidad and Tobago next weekend.
Around the Web