Virtual unknown Elton Bollers created the upset of the year in athletics circles when he defeated sprint `goliaths' Chavez Ageday and Stephan James in the  boys' Under-20 200 metres at the Police Sports Club ground Eve Leary on the first day of the Athletics Association of Guyana (AAG)  national junior and senior championships.
Bollers flew out of the blocks and ran a dazzling turn which left both James and Ageday in his wake.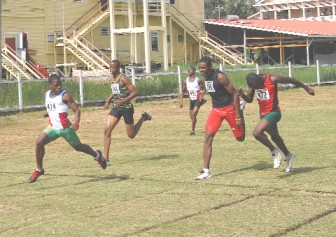 However, with 50 metres to go both James and Ageday were able to pull to within inches of Bollers but were  unable to snatch the win.
Bollers clocked a season-best 200 metres time of 21.00s.
Ageday, who had been striving to get the better of James  was finally  able to do so finishing second in a time of 21.30s while James finished third in 21.50s.
"I just went out and ran……I didn't have anything to lose against either of them (James and Ageday) but I knew I could have pulled this off because I kept telling people this but they laughed… so I'm satisfied with my win and time, Bollers told Stabroek Sport after the event.
He also promised to repeat the whipping of the field in the 400m.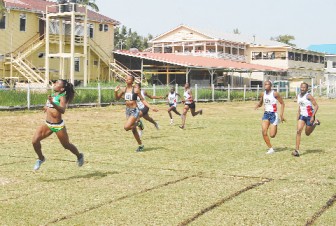 "I have the 400 metres tomorrow (today) and I'm going to cause havoc," a confident Bollers told Stabroek Sport.
His 200m time, now his personal best time, is the fourth fastest 200 metres time in the last three years after Rupert Perry's 20.2s and 20.8s and Winston George's 20.8s.
Earlier in the day Alisha Fortune recorded her second consecutive 100 metres win as the veteran looks to qualify for the 2012 Olympic Games in London.
Fortune blasted her way to yet another dominant women's 100 metres victory finishing in 11.60s to cap off a one-two finish for her Running Brave Athletic Club as Neisa Allen finished in second in 11.80s. Akeila Alves of the Police Sports Club was third in a time of 12.30s.
In a somewhat depleted females Under-20 200 metres field, missing junior star Letitia Myles (who is currently on a Guyana Defence Force (GDF) training course) Tiffany Carto produced a sensational run to win the event in 25.20s leaving Tiffany Smith trailing her in 25.50s.
Tevin Garraway in the boy's under-18 10 metres, continued his winning streak with a 10.8s run to finish ahead of Samuel Doris, who clocked 11.10s for second.
Nathaniel Giddings had a moment in the sun as he won the boys' Under-20 5000 metres.
The race though, was run without Carifta representative Samuel Kaitan who was at the meet.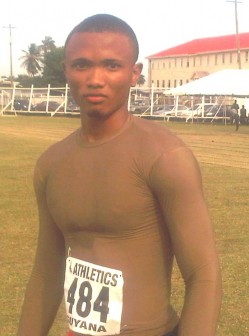 Giddings clocked a slow 16:47.20s to win the event with Neil McDonald second in 26:49.80s.
The men's 100 metres, which was lacking its normal fire power, saw Akeem Stewart having an easy day at the office, wining the event in 10.6s.
Terry Easton was second in 10.80s while Keith Roberts placed third with a time of 11.10s.
Two-time 1500 metres gold medalist Jevina Straker out ran her opponents by a 15-metre margin to win the Under-20 females' 800 metres in a time of 2:18.70s. She finished ahead of Jonella Jonas and Adama Roberts who were second and third respectively.
Meanwhile,  2012 1500 metres Carifta bronze medalist Andrea Foster ran away with the girls' Under-18 1500 metres in 5:10.50s. Cassie Kirton was second in a time of 5:26.80s.
With no Winston George and Wayne Harlequin in the men's 400 metres final, Shawn Semple exploded in the final 80 metres of the event to win in 50.10s.
Semple defeated favourite Patrick King, 50.20s and Trevor Scotland, 50.90s who were second and third respectively.
Devon Barrington also had a good day winning the Under 20, 800 metres in  2:05.60s. He will match strides with Giddings in the 1500 metres today.
Natricia Hooper lived up to the hype given by her co-coach Sham Johnny by winning the girls' Under-18 400 metres in 1:00.40s while Shomane Daniels clocked  1:03.10s for second.
Living up to expectations as well was Alita Moore who jumped 5.33 metres to claim the Under-20 female long jump ahead of Tandica Burgess who jumped 4.97 metres for the second spot.
The male Under-20 shot putt event saw Shiekele Scott throwing a distance of 9.26 metres for the top spot.  Joven Wright was second with a throw of 7.36m.
The day was the capped off with 4x 100 metres action as the quartet of Quincy Payne, Akeem Stewart, Leon Bishop and Patrick King of the GDF 'A' team ran 43.30s for the top sport ahead of the Running Brave Athletic Club second place time of 43.50s
In the female version Running Brave Athletic club gained retribution for the loss of their male counterparts by winning the female version of the 4×100 metres relay in a time of 50.70s.
The curtain will fall on the two-day event today.
Around the Web