Roseau, Dominica — It has been a long journey from the playing field at the Rose Hall Cricket Club to the West Indies team, but Assad Fudadin has made that journey and now he is looking to take more strides forward.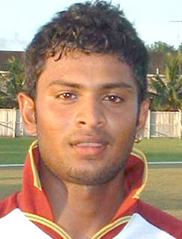 The confident left-hander had his first day among his new team-mates in the West Indies camp on Saturday, as the Windies prepared for the all-important third Digicel Test against Australia at Windsor Park. First ball on Monday is 10 am (9 am Jamaica Time).
As a boy growing up in the Rose Hall area in the county of Berbice, the soft-spoken Guyanese said he "enjoyed playing some cricket" but his first love was track and field. He excelled in sprints and the jumps and had visions of representing his country on the world stage. He made the switch to cricket in his early teens and it is the gentleman's game which has brought him international attention.
"Around age 13 I started to pay more attention to cricket and realised that I had the skills to play well at a competitive level," Fudadin said. "Some people told me I had 'it' in me and could go places if I put in the work. I followed the good advice. Two years later, I was in the Guyana Under-15 team and that year I was in the West Indies team which played in the (Under-15) World Cup in England."
That team also included Ravi Rampaul and Denesh Ramdin and the West Indies won the tournament with a superb victory in the final at Lord's.
"At that stage track started to take a backseat and I started to work hard and concentrate on my cricket. I got some success and decided to continue. I started to dedicate a lot of time to developing my game and I quickly realised that in order to be a success in the game of cricket I had to be disciplined and always willing to learn," the 26-year-old added.
"I progressed through the ranks playing at the Under-19 level for the West Indies but I did not have the success that I was looking for. I kept working hard and I'm happy that the selectors have put their faith in me."
Fudadin is only the second player from the Rose Hall Club to be selected for the West Indies. The first was allrounder Royston Crandon, who played a single One-Day International back in 2009.
"I would say I was fortunate … the club was opposite my house and my school was close by, so I didn't have far to go. My family put education first so I had to make sure I did my school work before I could play cricket," he said.
"I received support from everyone in my family. My parents, my brother Abdel, who also played Under-15 for Guyana, and my wife Akeema have all been very supportive. I owe alot to them. They kept me going during the tough periods and now I just want to make the most of this opportunity at the international level."
After a few moderate seasons at the first-class level Fudadin made a breakthough this year. He was the second highest run-scorer in the recently-concluded Regional 4 Day competition. He made 576 runs including two centuries at an average of 48 runs per innings. He described himself as a confident player who always looks to build an innings.
"I am feeling relaxed and confident at the moment. Everyone has welcomed me into the team. I knew some of the others from before — I played with Shiv and Narsingh in the Guyana. I also played with others in the youth teams (West Indies Under-15 and West Indies Under-19) and the West Indies A Team. It's just a matter of fitting in and doing what is required," Fudadin said after Saturday's training session.
"I was watching the series very closely before I was selected and you could see the determination and the commitment by the players in the team. I'm happy to come into that kind of environment. It is every boy's dream, once he starts playing cricket, to play at the highest level and I am closer to my dream. But the dream doesn't end there. I'm looking to take every opportunity I get and make the most of it and build a career from there."
West Indies Squad
Darren Sammy    (Captain)
Adrian Barath
Carlton Baugh     (Wicket-keeper)
Kraigg Brathwaite
Darren Bravo
Shivnarine Chanderpaul
Narsingh Deonarine
Fidel Edwards
Assad Fudadin
Kieran Powell
Ravi Rampaul
Kemar Roach
Shane Shillingford
Digicel Test Series Match schedule:
April 7-11: 1st Digicel Test – Australia won by three wickets at Kensington Oval,
Barbados
April 15-19: 2nd Digicel Test – Match drawn at Queen's Park Oval, Trinidad
April 23-27: 3rd Digicel Test – Windsor Park, Dominica
Around the Web