Fruta Conquerors and Renaissance football clubs have advanced to the final of the Banks DIH Powerade Under -13 tournament following their semi-final wins on Saturday at Thirst Park.
In the first match Renaissance defeated Sunburst Camptown by a 3-1 margin. Scoring for Renaissance were Idony Jobe in the sixth minute, Kevin Boters in the 18th minute and Livi Canterbury in the 40th minute while the lone  goal for Sunburst Camptown was scored by Damany Court in the 60th minute.
In the Santos/Fruta Conquerors match, Santos secured a 2-1 margin over Fruta Conquerors. Deandra Linton scored both goals for Santos in the 35th and 59th minutes. Wilson scored the lone goal for Fruta Conquerors.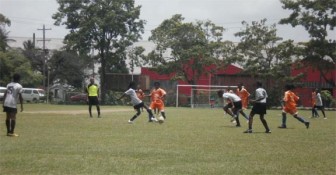 Meanwhile, Jimmy McLean, Technical Director of the Banks Football Academy said that already a number of players have been selected to attend the academy.
"For the past games myself Dennis `Chow' Hunte and Denzel `Hunky Brains' Thompson we have been shortlisting players. We already have a list of the players we want. We catered for 35 and 10 are wild cards who are going to private schools and their parents are strict and did not get the chance to come, so we are more or less starting with 25 players."
McLean said that they are well aware that the players all know to play the game, but they were looking for more than  they found in the players shortlisted.
Asked if the players are aware that they were selected for the academy, McLean said not formally. Letters he said will be sent to the respective clubs from which the players belong to informing them of their selection. Also the names he said will be published in the newspapers.
The academy according to McLean should start on week before the July/August vacation period.
Around the Web