The Berbice Cricket Board (BCB) launched the Guyana Independence T20 Cup last Wednesday at the office of the Berbice Chambers of Commerce.
According to a BCB press release, the board hopes the competition will bring a new dimension of T20 cricket in Berbice.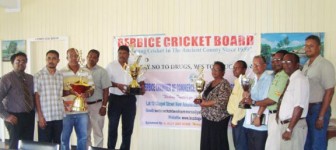 The tournament, a joint effort by the Berbice Chamber of Commerce and the BCB, is being held in observance of Guyana's 46th Independence Anniversary and will be contested May 26 at the Albion Sports Complex ground.
Teams expected to participate are Universal DVD Berbice Titans (the defending T20 cricket champions), Universal Solutions Berbice Tigers, Hits and Jams Superstars from Georgetown and New Line Cavaliers of West Demerara.
All of the country's national players will be available. The theme of the tournament is "Celebrating Guyana's Struggle, Moulding our Nation through Sports."
Proceeds from the event will go towards fulfilling the mandate of both charitable organisations, two orphanages, two first division clubs in Berbice and assist in sprucing up the host venue in any way possible, the release added.
The tournament carries cash prizes of over $1 million. In addition, there will be many attractive gate prizes, games for children and a cultural presentation before the grand finale.
The first match gets underway at 11am and the final will be played under lights.
Around the Web