The locally-based players in the national football team, the Golden Jaguars, will face off with Martinique and Guadeloupe in a pair of international friendly encounters on May 2nd and May 4th in the respective countries.
These two matches are a continuation of the "two-tier" system created by national coach Jamaal Shabazz commencing in February where matches were played in Trinidad and Tobago, Grenada, St. Vincent and French Guiana.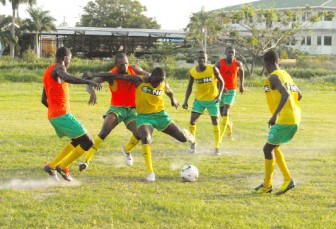 In this system the fringe local players who aren't participating in club football in Guyana, compared to the foreign-based players in England, Trinidad and North America are getting an opportunity to press claims to break into the main squad, ahead of opening 2014 World Cup qualifier on June 8th against CONCACAF powerhouse Mexico – at the world famous Estadio Azteca – the venue for the 1970 and 1986 World Cup finals.
Preparation camp for these fixtures began yesterday  under the guidance of assistant coach Wayne Dover in the temporary absence of Shabazz who is expected in the country before weekend. The squad went through an intense two-hour session from 4:00-6:00 pm at the Alpha United training ground.
Speaking to Stabroek Sport briefly, Dover explained what yesterday's session entailed.
"Well today (yesterday) basically was the opening day of camp and under the instruction of the Head Coach we did physical evaluation of the players to begin with, then we simulated an intensive 5-a-side, small distance scenario in which the players were encouraged to score goals."
He concluded by noting the this is the final installment of the two-tier system before Guyana's last major friendly international against Jamaica's "Reggae Boys" at the Montego Bay Sports Complex, Catherine's Hall on May 18th.
"This is last tour before the Jamaica game next month and most certainly local-based players who impress will have a great chance of getting selected for the final squad for the qualifiers."
Of the 26-man training squad, the most notable inclusion for this trip is striker Anthony Stanton. He is a Guyanese player who currently is the leading goal-scorer in the French Guiana football league.
Dover closed by putting out a cautionary note that given the qualifications for the ongoing Caribbean Football Union (CFU) championship, Guyanese players of clubs Alpha United and Trinidad and Pro League (TTPL) and 2011/12 Kashif and Shanghai winners Neal and Massy Caledonia AIA could be forced to miss this trip.
However Dover noted that he hopes that the dates could be changed so that both the national team and players from those clubs would not have to compromise.
Guyana training squad: Goalkeepers – Ronson Williams, Richard Reynolds, Andrew Durant, Colin Edwards, Defenders – Charles Pollard, Julien Edwards, Kris Comacho, Ryan Crandon, Howard Lowe, Trevon Lipcot, Quincy Mandramootoo, Mid-fielders – Kayode McKinnon, Anthony Benfield, Travis Grant, Konata Mannig, Dwight Peters, Dwain Jacobs, Dion Baker, Eon Alleyne, Daniel Wilson, Strikers – Anthony Abrams, Pernell Schultz, Jermaine Booker, Anthony Stanton, Vurlon Mills.
Around the Web