Clifford Reis captured his first major tournament for 2012 as high handicappers ruled the course at last weekend's Torginol Paint golf tournament at the Lusignan Golf Club.
With light rough, slick greens and tricky pin placements, the lower handicapped players failed to shoot low.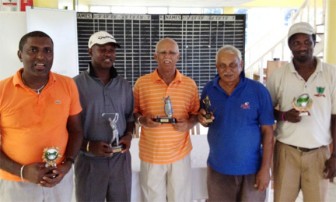 Reis was impressive with 87, off a handicap of 21, for a winning net 66.
Club President Brian Hackett was second with a gross 93, net 67, edging out with a better back nine Dr. Ramsingh who shot 91 net 67 as well. Lowest gross went to Mohanlall "Santo" Dinnanauth with a 76 while nearest to the pin went to Alfred Mentore.
The tournament was well attended with 26 players.
In his remarks at the presentation ceremony Club President Hackett expressed the club's appreciation to the Continental Group of Companies for sponsoring the event under the Torginol Paint brand.
Golfers will be back in action on Saturday for the Scotia Bank annual Medal Play tournament.
Tee off is at 12:30 hours.
Around the Web